'Injustice 2' Tier List Rankings: Why do the worst characters skew female?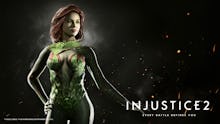 Update: This story contained a factual error regarding the relationship between the comics and the games. It has since been updated. We apologize for the error.
Original Story:
Injustice 2 may do a great job balancing the femme superhero aesthetic with realistic facial animation, but it still falls short in one crucial area. Few of the female fighters can measure up to their male counterparts in battle, and that's a problem.
Tier lists are important for competitive play in any fighting game. Players need to know where to expend energy in learning characters and abilities. After all, not every fighter is going to be right for competitions. It's early in the game's cycle, and there isn't enough data yet, but I noticed a strange discrepancy between the fighters, based on public tier lists.
The lowest-ranked characters in Injustice 2 are almost all women
Fighting game tier lists are ever-changing and evolving, since they're based on win rates in competitive play. They're incredibly subjective; one site's tier list will often differ from another. Eventhubs compiles comprehensive lists of characters for a number of competitive brawling and fighting games, like Super Smash Bros., Street Fighter 5, Mortal Kombat X and Injustice 2. 
The more people play these games competitively, the better the public tier list data becomes. At the time of this writing, Street Fighter 5 boasts three women in its high scoring fighters: Laura, Cammy and Karin, ranked at four, five and six, respectively. Mortal Kombat X has Sonya at rank three and Mileena at rank six. 
Conversely, Injustice 2 has just one highly ranked female player: Supergirl, at No. 2. The rest of the female fighters are mostly mid- to low-tier, with Cheetah ranked at the very bottom.
Now, the Injustice games do need to adhere to a certain amount of lore within its designed narrative universe. Injustice: Gods Among Us spun off a dark "elseworld" series, as was planned during the game's initial release. The games, and therefore the five years of back-filled story via the comics, feature very few women to begin with, which is a problem in and of itself. 
Of the 29 fighters in Injustice 2, there are just eight women to play as. There's the iconic Wonder Woman, who plays a big role in the Injustice comics and the previous game's narrative arc, and Harley Quinn, another major player whose core abilities have been revamped in between games. There's also Supergirl, who is one of my favorite additions to the game, along with Poison Ivy, Black Canary, Starfire, Catwoman and Cheetah. 
Why Injustice 2's balance issues matter
Representation in esports is an exceptionally delicate matter, as women make up a "criminally small" number of professional competitive gamers. If women are finding it difficult to find a foothold as players, then the onscreen representation matters more than ever — especially in the public eye.
The next Evo tournament — the oldest and largest fighting games tournament in the world — will feature a handful of fighting games, including the latest Injustice game, Street Fighter 5, Tekken 7 and Super Smash Bros. Last year, Evo's Street Fighter 5 finals were televised on ESPN2. So even mainstream sports is clearly interested.
Unless the Injustice 2 fighting community has a ringer who prefers mid- to low-tier characters in competition, it's unlikely that we'll see the women of Injustice 2 grace the digital arena, save for Supergirl. With the world watching, this sends a message to the audience: female superheroes are only eye candy.
It's too late for NetherRealm to rebalance the fighters before Evo in July. The competitors need time to master the fighters, so any nerfs or buffs will throw off their training. But since Injustice: Gods Among Us had its fair share of patches for balance, we could see some shifts in how the tier lists are structured in the future. 
The women of Injustice 2 are beautifully designed, but their lack of power in competitive gaming is strikingly obvious. I'm hopeful that NetherRealm will take that into account when the game's fighters hit the stage in July at Evo 2017. For now, it's frustrating that the majority of the female fighters pepper the least favorable tiers, especially after the developers paid ample attention to balancing realism with superhero idealism. 
I look forward to watching the tier lists evolve as more people play the game. Watching characters like Black Canary and Wonder Woman climb the lists, as I'm sure they will, will be a joy to witness.
More gaming news and updates
Check out the latest from Mic, including our list of video games that made fun of their players, a personal essay about dealing with anxiety through Breath of the Wild, a look at the racist and sexist experiences in esports and a plea for better character customization options for black characters.