Navigating Trump's America: How Donald Trump opted for political correctness on Islam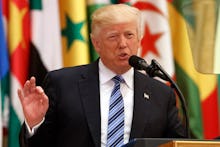 President Donald Trump has pulled off a reset, at least for the start of the week. Trump kicked off a trip through the Middle East and Europe with a weekend visit to Saudi Arabia. In front of dozens of leaders from Muslim-majority countries, Trump called for unity and peace — without mentioning "radical Islamic terrorism" or American Muslims. The speech was an exercise in political correctness that Trump has rarely shown. It was a notable shift in rhetoric, with Trump even pointing out that the main victims of terrorism are the "innocent people of Arab, Muslim and Middle Eastern countries."
Trump's aspirational tone around peace, tied to praise heaped on Saudi Arabia and other countries, was a notable departure from his past targeting of Islam. While some experts panned the speech, it was also a tactful, diplomatic success at the beginning of Trump's first foreign trip. The speech did not enjoy support from his power base on the American far right, which is rife with Islamophobia.
While in Saudi Arabia, Trump signed a deal for the kingdom to purchase $110 billion of American arms equipment. Those weapons will be used to fight the Islamic State, but could also find their way into the Saudi war against Houthi rebels in Yemen — a humanitarian catastrophe where millions struggle to eat. Keep in mind: Saudi Arabia has fueled terrorism in the past and is built on Wahhabism, a strict, often intolerant interpretation of Islam, which the kingdom has spread far and wide thanks to its petrodollars.
Ivanka Trump also made the trip to Saudi Arabia. Along with the United Arab Emirates, Saudi Arabia pledged $100 million to the World Bank's Women Entrepreneurs Fund that she recently announced. The fund has drawn criticism for its similarities to the Clinton Foundation, which accepts millions of dollars from other countries and was aggressively attacked by Donald Trump during the presidential campaign.
This is Mic's daily read on Donald Trump's America. Welcome to the political newsletter that would appreciate a ceremonial sword dance. 
Trump to Israel
Trump flew to Tel Aviv, Israel, on Monday and was greeted by Israeli Prime Minister Benjamin Netanyahu. (Netanyahu's deputies also greeted Trump, but only because the prime minister required their attendance.) Trump has said the United States has a "rare opportunity" to help broker peace between the Palestinians and the Israelis — a past stumbling block for many presidential administrations. Since the 1990s, U.S. leaders have strived to balance Palestinian demands for self-determination with Israeli calls for peace and security. Trump will likely continue to employ the dialed-back, friendly rhetoric he employed in Saudi Arabia.
Remember: This trip comes fresh off the report Trump leaked classified information — provided by Israel — to top Russian officials. He will probably have to answer for that with Israel, which is keen to retain close ties to its American patron. Secretary of State Rex Tillerson, though, told reporters, "I don't know that there's anything to apologize for."
Watch for a speech from Trump at 12:25 p.m. Eastern. The president visited the Western Wall — the first sitting U.S. president to do so — and Church of the Holy Sepulchre in Jerusalem on Monday morning.
Cutting Medicaid and anti-poverty programs
Trump's budget, set to be released on Tuesday, will double down on the American Health Care Act's planned $800 billion in cuts to Medicaid over a decade. With the AHCA facing no path forward in the Senate, those cuts are not likely to pass. But they show Trump is still willing to advance a deeply conservative agenda for America.
The budget will also give states the ability to limit who can receive anti-poverty assistance, like food stamps, based on work eligibility and other factors. The proposal will be in line with House Republican plans, leaked last week, to cut $400 billion from similar programs.
Elsewhere in Washington...
The Wall Street Journal reported Friday that Trump's aides have tried to convince him to stop tweeting, cautioning that the 140-character outbursts could "paint him into a corner" legally and politically. But old habits die hard.
As last week ended, fallout from the announcement of a special counsel investigating alleged Trump-Russia ties continued to rock Trump. Now, that inquiry will settle into months or more of investigation. But that is not likely to offer Trump a total reprieve. The Washington Post reported Friday that the probe has targeted a current White House official. Trump's boast — to Russian officials — about firing former FBI Director James Comey and calling him a "real nut job" could trigger a more immediate obstruction of justice investigation. Trump's national security adviser would not say whether the president confronted Russia's foreign minister about the country's meddling in the presidential election. The "cloud" created by these allegations is "impacting everything" done by Congress, said Sen. Marco Rubio (R-Fla.).
Remember: Trump will return to Washington amid buzz about upcoming Comey testimony in front of Congress, set to happen before the Senate Intelligence Committee after Memorial Day.
Outgoing House Oversight Chairman Rep. Jason Chaffetz (R-Utah) said over the weekend he will speak with Comey on Monday. Comey will not testify before the committee. There "may be quite a few people" at the White House with legal problems, Rep. Elijah Cummings (D-Md.) said alongside Chaffetz, his colleague on the committee. 
News and insight you cannot miss:
North Korea fired a more advanced type of missile on Sunday, one that is more difficult to detect prior to launch. It traveled 310 miles before falling into the Pacific Ocean. (Associated Press)
Dwayne "The Rock" Johnson announced he's running for president in 2020 with Tom Hanks on the ticket. (BuzzFeed)
Iran's president was re-elected. Here are three takeaways. (Mic)