'Destiny 2' Swords: Trailer teases new sword mechanics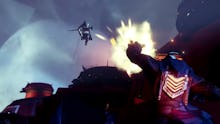 Swords were a Johnny-come-lately weapon type in Destiny. You got to mess around with one during a story mission in the original game, but they didn't become collectible and equippable weapons until after release. After all, this is a first-person shooter, not a third-person slasher. 
Blades appear to have a more prominent role in Destiny 2, however. Here's what we no so far about how swords will work in the upcoming game.
Destiny 2 swords: Gameplay reveal teases new uses
The Destiny 2 gameplay trailer seen above shows a ton of new weapons, abilities and enemies. Perhaps most interesting are the various swords being wielded by different characters throughout the trailer. 
We see a gnarly looking short blade on a hunter's back, a broadsword befitting a knight being used by a titan, and another hunter quickly slashing away at enemies with a katana. That might not seem like a big deal to normal people, but to Destiny fans, it represents another big change between the first game and its sequel.
In Destiny, swords were heavy weapons and the handful of them you could get in the game basically all handled the same. Here, they fit into the new "power weapon" slot and different swords appear to have different stances and attack animations. The hunter runs with the katana at his side and utilizes quick strikes, while the titan carries the broadsword with proper form and does a devastating overhead smash attack. 
It's unclear at this point whether attack styles differ between swords or between classes. It would make sense for hunters and titans to use swords differently. We haven't seen a warlock wield a blade as a regular weapon yet, though the Dawnblade super move appears to have unique animations, too.
If you want a complete rundown of every sword we've seen in Destiny 2 so far and how they work, check out this video from Arekkz Gaming:
More gaming news and updates
Check out the latest from Mic, including our list of video games that made fun of their players, a personal essay about dealing with anxiety through Breath of the Wild, a look at the racist and sexist experiences in eSports and a plea for better character customization options for black characters.