This black-women-owned business is trying to bring Flint clean water once and for all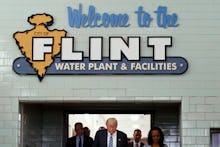 It's been over three years since Flint, Michigan, last had clean water. And if city officials won't do anything to change that — one woman will.
According to the Root, WT Stevens Construction, a black-women-owned family business, will be in charge of replacing the city's more than 18,000 contaminated water pipes along with three other contracting companies.  
Rhonda Grayer, the company's owner, said in a phone interview Monday that her company signed onto the project after the Michigan State Legislature put it up for bidding in 2016.
"This is exciting for us, because not only is it a growth opportunity for our company, it's an opportunity to help Flint correct this huge problem," Grayer said.
The Flint water crisis began in 2014 when officials, in an effort to save money, switched the city's water source from the Detroit Water and Sewerage Department to the Flint River. The Michigan Department of Environmental Quality employees neglected to treat the water with an anti-corrosive agent, and lead from the city's corroding pipes contaminated the water, turning it into what one EPA official classified as "toxic waste." 
Republicans in Congress closed the investigation into Flint's water crisis in December after a yearlong study failed to produce any new insights into the systemic failures that caused it — that is, other than the negligence of state officials, who face criminal charges for their crimes. 
A month later, Michigan environmental officials announced that the city's water was drinkable, with lead levels finally falling below federal limits. Flint's residents, however, told a different story, 
"This has been going on a lot longer than what they've been saying," Karla Muhammed said in January 2016. "If [General Motors] was saying they didn't want the water [in 2014] because it was corroding engine parts, then what is it doing to us? This is beyond a disaster. It's criminal."
Flint's pipes pose the biggest obstacle to clean water for the city. EPA officials said the water's lead levels have improved, but if the city's water continues to travel through the same lead-corroded pipes, Flint may never see an end to its water crisis. 
"It's very likely folks will never be told the water is safe as long as those lead pipes are there," Virgina Tech professor Marc Edwards, who led a December study into Flint's lead levels, told the Detroit News. 
That's where Grayer comes in. In six months time, she and the three other contracting companies on the project will have replaced 6,000 pipes in Flint.
Grayer said the accomplishment will be especially meaningful to her employees, since about 60% of them are Flint residents themselves.
"They've had firsthand experiences with the water crisis," Grayer said. "This is the community in which they live and when they're on the job they see that they're helping residents they know. 
"I think it's a motivator," she continued. "It gives them the energy to get it done and do a good job."