'Titanic' movie lawsuit: This is why a man is suing director James Cameron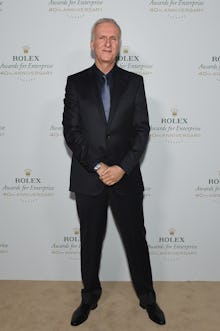 Director James Cameron is facing an interesting lawsuit. A man named Stephen Cummings is suing the famed director for $300 million and 1% of the royalties from the film after accusing him of stealing his story for the movie. 
Yes, Cummings is suggesting that the blockbuster, Oscar-winning 1997 film starring Kate Winslet and Leonardo DiCaprio is actually based on true events that happened to his family members. 
Cummings, who worked in the yacht industry for years, claimed that his relatives were on the infamous ship. He allegedly told others about their story, which had a similar ending to that of Rose and Jack — the woman survived and the man died. TMZ reported that, according to court documents, Cameron was inspired to write the script after hearing about Cummings' story through word-of-mouth. 
This isn't the first lawsuit over that Cameron has faced over the film. In 2014 he was sued for allegedly stealing the idea for the 3D rerelease of the film from a woman named Faan Qin. Qin claimed that Cameron, 20th Century Fox and Paramount Pictures had stolen her idea for a 3D ride based on the story of the infamous sinking ship and used it as inspiration for the rerelease. 
Cameron faced a second lawsuit in 2014 when an actor who worked on Titanic claimed he wasn't paid fairly or properly credited. Vi Jay was working as an extra on the film in 1996 and was bumped up to have a meatier part. According to his suit, he wasn't paid enough and didn't get the chance to join the Screen Actor's Guild as a result of the role promotion. 
Not only will the heart of the Titanic always go on, but so will lawsuits against James Cameron. 
Mic has ongoing movie coverage. Please follow our main movies hub here.