'Destiny 2' Beta Date: Details are slim, but Bungie has an extensive FAQ to answer questions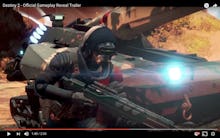 Destiny 2's list of features, including smaller crucible matches, new subclasses for all three Guardian types and guided games, means that players are hungry to get beta access prior to the game's Sept. 8 release.
Although Bungie hasn't released any information regarding when the beta will launch, the developer has begun to answer questions related to the beta on their website.
Destiny 2 Beta: What you'll need in order to access the game early
To their credit, Bungie has prepared a fairly robust FAQ for prospective beta users and those who have already preordered the game. Although it doesn't provide a concrete timeframe as to when the beta begins, it does state that "non-preordering customers" will eventually have access to the beta, but only after preorder customers have had an opportunity to play it.
If you're looking for ease of use, you're best off preordering the game on the PlayStation Store or Xbox Store, since according to the FAQ, this will grant you automatic access to the beta once it starts. If you preordered the game from a participating retailer, you'll have to register a Bungie.net account and enter in the "beta redemption code" you received from your retailer. You'll then receive a beta download code for the email address you chose while making this account at a later, unspecified date.
According to the FAQ, you'll need to link your Bungie account to either a PlayStation Network or Xbox Live account in order to use your beta redemption code. However, the FAQ also states that you'll pick your beta platform closer to launch, so PC players with access to a PSN or Xbox Live account won't have to worry about being locked out of the beta.
If you don't have access to a PSN or Xbox Live account however, Bungie encourages you to hold onto your redemption code, since they're planning on adding "additional account options for PC players when we get closer to the beta." 
Registering for the beta seems pretty straightforward, even though we don't have a start date as of yet. Make sure you register your Bungie account and link it to your preferred console so you can get into the beta as soon as it launches.
More gaming news and updates
Check out the latest from Mic, including our list of video games that made fun of their players, a personal essay about dealing with anxiety through Breath of the Wild, a look at the racist and sexist experiences in esports and a plea for better character customization options for black characters.