'Fire Emblem Echoes' DLC: "Fledgling Warriors Pack" is perfect for beginners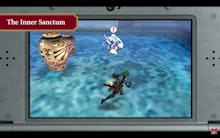 Fire Emblem games can be pretty complicated. With all the different units and their promoting classes, it can be a lot to learn for a series newcomer. Luckily, Nintendo already announced a DLC pack for Fire Emblem Echoes that, according to Siliconera, will be great for beginners.
Fire Emblem Echoes DLC: Check out the trailer
If you want to secure all of the Fire Emblem DLC, you can opt in to the season pass for $44.99, or you can purchase each DLC individually. If you're still on the fence, check out the trailer for the Fire Emblem Echoes DLC below.  
In the trailer, Nintendo talks about the "Fledgling Warriors Pack," which features one new dungeon and two new maps. This DLC pack is available now for $7.99. 
More packs will be coming out on May 25, including the "Undaunted Heroes Pack" and the "Lost Altars Pack."
More gaming news and updates
Check out the latest from Mic, including our list of video games that made fun of their players, a personal essay about dealing with anxiety through Breath of the Wild, a look at the racist and sexist experiences in esports and a plea for better character customization options for black characters.