Mike Flynn will plead the Fifth — which Donald Trump said is something only the guilty do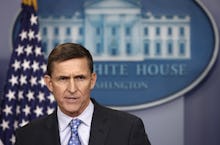 Former national security adviser Michael Flynn will not comply with the Senate Intelligence Committee's subpoena, and will instead invoke his Fifth Amendment rights, the Associated Press reported Monday.
The Intelligence Committee subpoenaed documents from Flynn relating to his interactions with Russia — interactions that led to his resignation in February after he lied to Vice President Mike Pence about the nature of his conversations with Russian Ambassador Sergey Kislyak.
The Fifth Amendment gives people the right to decline to answer questions in legal proceedings so as to avoid self-incrimination.
Flynn's decision to plead the Fifth creates an awkward situation for President Donald Trump — who said last year that only guilty people invoke the Fifth Amendment.
Trump made those comments during the investigation into Hillary Clinton's use of a private email server. Three people involved in the Clinton email server pled the Fifth in the Congressional investigation into the server.
"The mob takes the Fifth Amendment," Trump said in September. "If you're innocent, why are you taking the Fifth Amendment?"
It's not just Trump who condemned others for invoking their Fifth Amendment rights. White House Press Secretary Sean Spicer and Counselor to the President Kellyanne Conway also attacked those who Plead the Fifth.
Spicer in 2013, when then-IRS executive Lois Lerner Pled the Fifth, tweeted, "Why do u take the 5th if you have done nothing wrong and have nothing to hide? #IRS"
And Conway, in September during the Clinton email investigation, called the Clinton aides pleading the fifth a "basket of liars."