'Tekken 7' New Characters: See the newcomers coming to the latest 'Tekken' game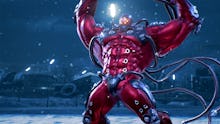 I know what you're thinking: "I love fighting games, but I hate superheroes!" You'd play Injustice 2 if it let you play as a bear, but instead, it's just dorks in goofy costumes. Luckily for you, a new challenger is sprinting to the arena in the very near future, and it's bringing some eccentric new faces along with it.
Tekken 7 new characters include a giant red mutant, a vampire and Akuma
Tekken 7 comes to Xbox One, PlayStation 4 and PC on June 2. It's been in arcades for a good long while, so most of its new characters are only new to console players. CNET has a quality rundown of some of the new combatants in the latest entry to Namco's long-running franchise.
Kazumi, mother of Kazuya and wife of Heihachi, looks like a normal combatant except for the part where some of her attacks summon a malevolent tiger. She looks awesome. And if you pre-order the game, you get access to Eliza, who just happens to be a vampire. 
There's also Gigas, the enormous red mutant pictured above. But by far the weirdest new addition is Akuma, who you may recognize from Street Fighter. Here's some footage of how he works.
The green demon appears to work similarly to how he works in Street Fighter, though he can sidestep now that he's in 3-D space. Of course, classics like Heihachi and Yoshimitsu return. It's still Tekken, after all.
More gaming news and updates
Check out the latest from Mic, including our list of video games that made fun of their players, a personal essay about dealing with anxiety through Breath of the Wild, a look at the racist and sexist experiences in eSports and a plea for better character customization options for black characters.