'Pokémon Go' Legendary Birds Event: Niantic product lead promises "Legendary Summer" in speech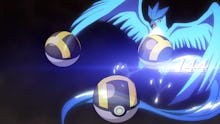 Back in March, Niantic CEO John Hanke did a series of interviews with Wired Germany where he teased several huge improvements to Pokémon Go that would be coming in 2017, after the release of Gen 2. These included updating the game's gym structure and something to do with the Legendary Birds, but details about these updates have been sparse.
However, Niantic may have just dropped a gigantic teaser into the acceptance speech for their Webby award for Best Mobile Game. If you're curious as to what's going on, read on for more info.
Pokémon Go legendary event: Webbys speech stokes the fires of speculation
According to Nintendo Everything, Pokémon Go won a Webby for Best Mobile Game at the 21st Webby Awards on May 15. Niantic's global product marketing lead Archit Bhargava took the stage to accept the award. In lieu of a speech, Bhargava simply said, "This summer will be legendary."
This is a pointed use of phrase on Niantic's part, and it's not likely they'd make reference to "legendary" unless they were trying to get people excited about Legendary Pokémon coming to the game. Although we're still about a month out from the official calendar start of summer, it's nice to know that something big may be coming in the coming months.
This isn't the first time Niantic has used an award show as a way to build excitement about what's to come. Back in February, a member of the Niantic team in attendance for the D.I.C.E. awards famously told players to save their candies before winking directly at the camera.
Hopefully, Bhargava's teaser proves a little more concrete, but we're not likely to hear much more about the Legendary event until it's on the verge of dropping. Until then, you'll have to content yourself with Bhargava's semi-inscrutable statement and the rapidly warming weather, which will make it easier to get out and catch Pokémon.
More Pokémon Go news and coverage
If you're just booting up your Pokémon Go account, check out our first impressions of the Gen 2 update. You'll also want to learn more about the Unown and new evolutionary items like the Sun Stone and more. If you're looking for a list of evolutions that weren't initially revealed by Niantic, this article is your guide. 
If you're more interested in the main games, here's the latest on a possible Pokémon title on the Nintendo Switch: Pokémon Stars. And if you're itching to learn about the other mobile Nintendo games, check out our coverage of Fire Emblem Heroes and Super Mario Run.