'Fire Emblem Echoes' Amiibo Support: Here's what in-game features they unlock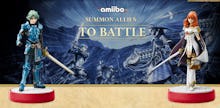 Fire Emblem Echoes was just released, and with it, a new set of amiibo. In fact, you can only purchase the new Alm and Celica amiibo together in a set.
Just like with other Nintendo games, amiibo provide you with special content that can only be accessed through the figures.
Fire Emblem Echoes amiibo: Here's what you get
From the official Nintendo site, we can see specifically what the Alm and Celica amiibo unlock within the game:
Each figure unlocks a special dungeon where players can battle bosses and collect in-game items.
The amiibo for other Fire Emblem characters will also work in the game, so if you have a Marth or Corrin amiibo lying around, make sure to grab it for a bit of extra help in battle.
More gaming news and updates
Check out the latest from Mic, including our list of video games that made fun of their players, a personal essay about dealing with anxiety through Breath of the Wild, a look at the racist and sexist experiences in esports and a plea for better character customization options for black characters.