After being bullied over her dark skin, this 10-year-old is fighting back with T-shirts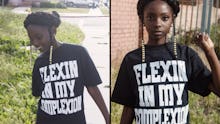 In late March, when 22-year-old Taylor Pollard posted two pictures of her 10-year-old sister Kheris Rogers on Twitter, she was just trying to brighten her day.
"My sister is only 10, but already royalty," Pollard wrote, concluding the post with the hashtag #FlexinInHerComplexion. 
But with that tweet, which went viral with more than 83,000 likes, Pollard ended up not only brightening her sister's day, but changing her life and paving the way for Rogers' new clothing line, Flexin' In My Complexion, which aims to spark confidence in anyone that's faced colorism in their life, like Rogers has. 
"I've been bullied a lot, like in the first grade, I went to school with just four other black kids," Rogers said in an interview. "And kids used to bully me because they weren't used to my skin tone. There was an incident with a teacher and we had to draw ourselves and she gave us a black crayon instead of a brown crayon, and I was really upset." 
But now, since Rogers has been sent waves of positive reinforcement online in regards to her skin, she's more confident about her skin tone than ever before, and wants others to find confidence in their skin too. 
"Kheris really thought she was the only one going through this, but Kheris now realizes that this is a global issue," Pollard said in an interview. "That's what pushed Kheris, because she thought 'If I'm feeling this way, then we want to help others who are feeling bad about themselves too.'" 
After thinking it through, Pollard and Rogers landed on the idea of starting a fashion collection aimed at boosting people's confidence. 
And so three weeks ago, Pollard and Rogers made the first "Flexin' In My Complexion" T-shirts that very quickly went viral too. 
"I feel confident in it myself because, even if I still get picked on because I'm darker, when I put on the T-shirt, it makes me feel bold," Rogers said. 
"I just hope that especially for younger kids, people start to feel more confident in their skin," Pollard said. "It doesn't matter how dark or light you are, just knowing that it's beautiful and that your complexion doesn't determine your beauty." 
In the next few weeks, Pollard and Rogers are already planning on expanding the line to things like more fitted T-shirts and crop tops, with Pollard insisting: "It's about to be summertime, so we'll be coming with you."