'Overwatch' Events 2017: Expect "refining" of last year's updates rather than new ones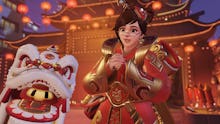 Now that Overwatch is about to celebrate its first year with the upcoming Anniversary event, it's time to start thinking about what its second year of seasonal events might look like. Will Blizzard just cycle the same events in again at the same times, or will it try something entirely new?
In a recent interview, Overwatch director Jeff Kaplan spoke about exactly that. Here's what you need to know.
Overwatch events 2017: After Anniversary, fans should expect "refining" of last year's events
In an interview at a media event in New York City, the moderators of the /r/Overwatch subreddit asked Kaplan about what events might look like in year two — and whether Blizzard will repeat the same events from last year.
From the sounds of it, fans should expect the events in 2017 to be improved-upon iterations of 2016's events, rather than brand-new ones.
"We shouldn't just press a reset button and make an event from [scratch], it should be the same event that you remember from last year, but maybe we modify some things that weren't working and add some content."
Kaplan cited Lúcioball — the special mode from Summer Games — as an example of a mode that will make a return, but it's possible that something like Junkenstein's Revenge might undergo a more thorough rework. After all, Uprising's special mode was essentially an iteration of Junkenstein's Revenge, so it makes sense to improve that one.
Notably, the interviewers didn't ask whether fans who missed out on a specific skin from one of last year's events would have a chance to earn it again this year — so, jury's still out on that one.
"I think the next year will just be refining the events that we have rather than adding new ones," Kaplan continued. "But I would never take adding a new event off the table."
Overwatch's next event, Anniversary, will begin May 23.
More Overwatch news and updates
For more on Overwatch, check out the rest of what Mic has to offer. Here is an essay about how Efi Oladele was a missed opportunity for Overwatch, a deep dive into the issue of sexual harassment in Overwatch voice chat, an unintentionally hilarious infographic showing the most popular Overwatch characters in each state, a criticism of Blizzard's failures in its design of Symmetra and a dive into a cool trend on Tumblr that converts your most-played heroes into a psychedelic illustration.