Summer Books 2017: 17 authors share their favorite beach reads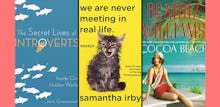 Come mid-June, you'll be spotting the same few book covers decorating airport kiosks, peeking out from your co-workers' tote bags and along the shoreline of your go-to beach. 
To help predict the books everyone will be reading this summer, we asked 17 authors to write in and share their favorite reads of the season. These experts are privy to some of the best new writing long before the words make it to paper and are stocked on the shelves. Some of the books are out now, while others will drop later in the summer months — luckily, you'll have the foresight to preorder. 
Whether you're looking for some extracurricular education, a thriller or a complete guilty pleasure, we've got your summer reads below.
"I don't know the last time a book made me laugh as hard and as audibly — like, laugh-at-full-volume-at-work-because-you-can't-stop-reading-it-even-though-you-have-emails-to-send laugh — as Sam Irby's We Are Never Meeting in Real Life. The essays in her second collection range from stories about her demon cat, pooping her pants, sleeping with shitty dudes, why being outside sucks, her family and the tedium of being in love. It's always funny, sometimes dark, often heartfelt and completely insane. Read it twice."
— Scaachi Koul, author of One Day We'll All Be Dead and None of This Will Matter
"In The Secret Lives of Introverts, Jenn Granneman (creator of the popular online community Introvert, Dear) insightfully shares her firsthand experience as an introvert, as well as the stories of fellow introverts.
"But don't let the title fool you. Secret Lives is a book for everyone, introverts and extroverts alike. From the first embrace of chapter one, introverts who have endured the pain of feeling out of place, inadequate or outright weird, will feel remarkably understood. Granneman shows introverted readers how to 'begin working with [their] introversion, rather than fighting against it' through invaluable advice for a variety of life situations. And extroverts will learn secrets to better understand and relate to the introverts in their lives. With up to 50% of the population being introverted, every extrovert is likely to have at least one in their relationship circles. Granneman's warmth and exceptional ability to connect with her readers makes this book an enjoyable, validating and encouraging must read."
— Aaron Caycedo-Kimura (aka INFJoe), author of Text, Don't Call (Aug. 15, 2017)
What We Lose by Zinzi Clemmons (July 11, 2017)
"I don't believe that beach reads should be mindless, rather that they should be books that can transport you somewhere else, and maybe even spur conversation among fellow vacationers. Zinzi Clemmons' debut novel What We Lose has a heavy subject at its core — the loss of a mother to cancer — but in the process of exploring grief, the novel also examines love, coming of age and the concept of identity, both here in the United States and in South Africa. As a novelist, Clemmons is refreshing and real."
— Angela Flournoy, author of The Turner House
Sour Heart by Jenny Zhang (Aug. 1, 2017)
"Jenny Zhang's harrowing, hilarious debut book of fiction spans New York at the turn of the 21st century and Shanghai during the cultural revolution in the 1960s, plumbing the foulmouthed depths of a furious adolescence along the way. Coming to grips with life in a city that seems designed to cleave families apart, Zhang's characters are ruthless in their devotion to one another — they drown cars in the Harlem River, pull chewed ham out of one another's mouths and gleefully curse the world around them in a deranged, claustrophobic poetry of familial love. 
"Zhang's gift is her ability to capture the sound of youthful rage and deploy it as a smoldering vow against despair: 'I did what I was told and pressed my right hand halfheartedly against my heart as we recited the 'Oath-to-Lick-America's-Balls-Even-Though-They're-Dirty-in-Order-to-Certify-That-America's-Wonderful-and-Tolerant-Even-Though-It's-Not.' Already an accomplished poet and essayist, Zhang hereby proves she can do just about anything."
— Daniel Poppick, author of The Police
"Renée Ahdieh is one of the most talented and evocative writers, and she really tops herself with Flame in the Mist, an addictive book that demands to be finished in one tanning session. A fantasy set in feudal Japan, the story follows the irrepressible Mariko, a clever, inventive heroine who casts aside the oppressive chains of her patriarchal society in the classic tradition of Mulan by pretending to be a boy and inserting herself into military affairs. The tale is told with wit and style, peppered with the lush settings and descriptions that are Ahdieh's specialty."
— Brendan Reichs, author of Nemesis
"This summer, spend a day with Joan Didion's South and West: From a Notebook, because Joan is the master of clever words. Her writing is mesmerizing — honest, raw and fragile. 
"South and West offers excerpts into Joan Didion's notebooks. She recalls her numerous visits to the south, first as a young girl to Durham in North Carolina when her father was in the military, and later visits to New Orleans, the Mississippi and Alabama. For me, her observations offer a window into an America that no longer exists. Her writing is both a history lesson and a compelling drama all rolled into one. A perfect summer book that is both entertaining and culturally significant."
— Hetty McKinnon, author of Neighborhood (June 27, 2017)
"Cat Marnell's How to Murder Your Life is one of the most fascinating and disturbing books I've read in a long time. An unabashed, frighteningly honest journey into the world of addiction and excess, it's like some sort of Adderall-infused mashup of Hunter S. Thompson and Candace Bushnell!"
— Ben Mezrich, author of Woolly: The True Story of the Quest to Revive one of History's Most Iconic Extinct Creatures (July 4, 2017)
Norse Mythology by Neil Gaiman 
"Norse Mythology by Neil Gaiman was my first beach read of the year. Divine adventures, love, deceit and the fate of the gods reimagined by one of the best storytellers alive. Soak up the sun while wondering who, or what, lives on the other side."
— Mindy Mejia, author of Everything You Want Me to Be
"It's a perfect beach read because of the time-travel element of being transported to my own teen years awkwardly straddling the color line in school and at home. Our grounded heroine, Starr, lives in the inner city and commutes to a 'bougie' prep school in the suburbs. But in addition to the usual social pressures kids of color face, Starr grapples with the aftermath of witnessing the police execution of one of her best childhood friends, a Trayvon-like tragedy." 
— Nathalie Hopkinson, author of A Mouth Is Always Muzzled: Six Dissidents, Five Continents and the Art of Resistance (January 2018)
"I had been counting down the days to the May release of Pamela Paul's My Life With Bob. As the New York Times' books editor, one can only assume Paul has devoured (or struggled through) more books than the average human can dream of in a lifetime. I've often wondered if and how her life has been shaped by the myriad characters and storylines she consumes, but never did I think she would so carefully and religiously document each book read (since high school!) and how they made her feel."
— Lindsey Tramuta, author of The New Paris: the People, Places & Ideas Fueling a Movement
"I'm so excited by One of Us Is Lying. It's a locked-room mystery with a difference: Five students go into detention and only four come out. Who, of those four, killed Simon? This is a gripping, brilliant thriller that pulled me in a hundred different directions before ending with a perfect twist, and I'm so excited to see it out there in the world. I've already lent my proof copy to several friends."
— Emily Barr, author of The One Memory of Flora Banks
"The Four Legendary Kingdoms is a brilliant culmination of Matthew Reilly's action-packed career, merging storylines in an exciting, relentless and thrill-inducing way. When it comes to combining action-adventure with modern mysticism, no one does it better. This book is AWESOME." 
— Matthew Betley, author of Overwatch: A Thriller
Spurt by Chris Miles
"It's a hilarious novel with an equally hilarious cover about the last boy at school to go through puberty, and because I write books for kids, it counts as research and an escape."
— Tim Federle, author of The Great American Whatever
"If you're up for a headier summer reading experience, I highly recommend Lincoln in the Bardo by George Saunders. Long known for his wild and wacky short stories, this is Saunders' first novel, and it's a knockout. But be warned: It's set in a graveyard over the course of one long night, and is narrated by a chorus of voices. This is not your standard literary novel — and certainly not the usual 'summer read.'
"In 1862, Willie Lincoln, son of President Abraham Lincoln, has died and is laid to rest in a Georgetown cemetery. Grief stricken, the president visits the crypt several times, just to hold Willie's body. He can't let him go — and Willie won't let go either. He's stuck in the 'bardo,' a kind of purgatory — neither fully dead, but not alive. And he's surrounded by a dazzling cast of fellow bardo residents, none of whom seem to realize that their lives are over.
"It sounds crazy, but trust me, Saunders makes it work. If you want to exercise your brain, laugh a little and maybe shed a few years, Lincoln in the Bardo is the perfect summer read."
— Martin Wilson, author of We Now Return to Regular Life (August 2017)
The Collapsing Empire by John Scalzi  
"John Scalzi's The Collapsing Empire is like all of Scalzi's science fiction: smart as heck, but so fun and so fast that it feels like a guilty pleasure. The book is an opening chapter of a new series and you'll take it down in one big gulp." 
— Ezekiel Boone, author of The Hatching
Cocoa Beach by Beatriz Williams (June 27, 2017)
"A Prohibition-era novel of love and suspense set in Florida — I love a good historical love story, and no one writes these better than Beatriz Williams."
— Jillian Cantor, author of The Hours Count
The Windfall by Diksha Basu (June 27, 2017)
"I'm recommending Diksha Basu's The Windfall, which is a smart, hysterically funny satire of two social climbing families in modern-day Delhi, India. I wish I could reread the book while sitting on a beach in Goa."
— Kevin Kwan, author of Rich People Problems