iPhone 8 Images: New leaks may show the new phone's size and shape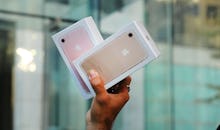 The current speculation surrounding the next-gen iPhone is that there will be two iPhone 7S handsets (a 7S and a 7S Plus) and a commemorative iPhone 8 device in celebration of the 10-year anniversary of the iPhone. Now, there are leaked molds of the rumored smartphones, MacRumors reports.
The iPhone 8 is believed to be a 5.8-inch handset with an edge-to-edge bezel-less OLED display similar to the recently released Samsung Galaxy S8. The iPhone 7S devices will reportedly feature an LCD display and come in 4.7-inch and 5.5-inch screen sizes.
That said, the molds suggest the iPhone 8 will be closer in overall size to the iPhone 7S than the iPhone 7S Plus. The size/screen discrepancy may have a thing or two to do with the fact that the iPhone 8 will feature an edge-to-edge display, so no room will be wasted.
Views of the molds from the side show the iPhone 8 to have a longer power button, and cutouts suggest rumors of rear-end dual lenses being aligned vertically instead of horizontally are true.
MacRumors noted that the molds may not be device molds and could be case molds. And, as with any leak, authenticity is unverified.
Other rumors about the iPhone 8 tease that there may be wireless charging, a front-facing dual-lens camera, a new smaller A11 chip, extended battery life, improved water resistance and a 3-D sensing system to support augmented-reality technology — or "some form of facial/gesture recognition."