11 culinary retreats around the world for your next vacation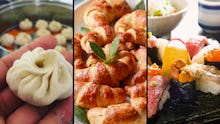 If Master of None has you daydreaming about dropping all your responsibilities and learning to fold impeccable tortellini in a tiny Italian town, you've got options. There are cooking schools and culinary workshops around the world where you can learn tasty regional secrets. 
Even if your level of culinary expertise is limited to smashing half an avocado on a slice of not-burnt toast, you can enroll in multi-day workshops in Spain, Alaska, Japan and beyond to expand your cooking skills. For cooking enthusiasts eager to expand their at-home dinner repertoires or those who want to consider a potential new career path, these application-free cooking schools will make for the tastiest vacations you've ever had. 
Mimo, San Sebastian, Spain
Tuition: Two-day courses start at 315 euros ($352), with week-long courses from 940 euros ($1,051). Half-day demos and classes start at around 125 euros ($140). 
At this cooking school for English-speaking gourmet enthusiasts (professional chefs should head to the nearby Basque Culinary Center), you'll learn the flavors, techniques and culinary skill the Spanish Basque region is known for. Chefs from nearby restaurants staff the school, which uses almost exclusively locally sourced ingredients in its kitchen.
To get the full scope of regional culture, enroll in the seven-day course, where you'll learn how to make pintxos and paella. The food you make in each five-hour lesson is yours to dine on, and you'll have the rest of each day to explore and eat your way through gorgeous San Sebastian, which is perhaps the best education of all.  
Tuition: $5,200 includes room and board for a four-day intensive.
Immerse yourself in French wine country and all the delightful tastes and sips this region has to offer. At Two Bordelais, you'll be hosted at a private chateau for five days of superb culinary education. During the first three days, you'll head out to the local markets, meet farmers and learn how to prepare meals with whatever's in season. You'll also visit local artisans and winemakers throughout your trip. To add to the romance, classes are led in a restored 17th-century barn by your hosts, chefs Denise and Jean-Pierre Moulle. The classes book up over a year in advance, so plan ahead.
Tuition: A five-day charcuterie boot camp costs 2,950 euros ($3,298), an all-inclusive week-long French cooking workshop is 3,950 euros ($4,417) per person.
If you've ever dreamed of preserving meats for a week in Southwestern France, Camont is the place to do it. Check in to charcuterie camp where you'll learn how to preserve pork and master butchery knife skills. If you want to expand your repertoire, head to the Chateau de Mazelières (the residences at Kitchen at Camont), where you'll enjoy a week of rustic French cooking: cassoulet, poule au pot, confit de canard, coq au vin, foie gras, duck a la orange, tarte aux pommes and many more. 
Tuition: A three-day class is $2,500 per person and a five-day class is $3,500 per person. 
Make like Julia Child and seep up small-town French culture for a three-day or five-day culinary intensive workshop that will have you cooking like a French grandmother. In addition to mastering classic recipes, you'll learn about French wine and cheese so you can appreciate all the accoutrements that make up an excellent French meal. Food writer and cookbook author Susan Herrmann Loomis leads her classes in English. Can't make it to France? She also teaches French culinary workshops in the U.S., and has classes in Asheville and Los Angeles scheduled for 2017. 
Tuition: 12-week certificate course starts at 11,595 euros ($12,965), five-day classes start at 550 euros ($615).
Located on a 100-acre organic farm packed with vegetable, fruit and herb plots, this Irish education center is perfect for those who want to focus on sustainability and farm-to-table fare. Ballymaloe prioritizes using Ireland's local bounty of freshly grown fruits, vegetables, meat and dairy products.
In three months, you can earn a culinary certificate and start a career as a cook or in the culinary arts. But if you have less time to spare, you can enroll in half-day sessions on pizza or tapas, or stay for multiple days to focus on seafood and foraging. 
Cook in Mexico, San Miguel de Allende, Mexico
Tuition: From $2,750 per person for seven-day all-inclusive program, with double occupancy. 
This all-inclusive cooking vacation enlists local experts to teach you the ins and outs of Mexican food, taking you into to kitchens of expert local cooks to replicate their skills. Tours of Mexican landmarks and attractions, market visits and other activities are also included in the itinerary if you don't want 100% of your vacation to be spent in the kitchen. 
Similar programs are also offered in Tuscany and Cuba, should you be planning a culinary world tour. 
Tuition: $761 for a 10-day intensive.
From dim sum to hand-pulled noodles, you'll cover the essentials of Chinese cuisine in this 10-day program, which has both morning and evening classes. The curriculum includes learning Hunan, Sichuan, Cantonese and other regional cooking styles and dishes, so you can leave Beijing cooking Chinese food from all over the country. Those with limited time can also take shorter classes focusing on stir fry, using a Chinese meat cleaver or how to make dough-based dishes, like dumplings.
Tuition: 547,500 yen (about $4,918) for four-week sushi or washoku intensives or 950,000 yen (about $8,534) for a eight-week program that includes both.
Take a month or two off and become a sushi master. Beginners are welcome and will learn how to properly cook sushi rice, slice fish filets, form nigiri, create hand rolls and advance to more complicated sushi dishes. 
The washoku, or Japanese cuisine intensive, teaches you how to make dashi, tempura, yakitori, tonkatsu, okonoiyaki, sashimi, izakaya dishes and more. Combine the two for an eight-week comprehensive Japanese cuisine experience that will prepare you for any sushi counter.
Tuition: One-day classes start at $100, up to $1,200 for five-day classes.
Can't make it all the way to Paris to master your pastry technique? Stay in the states and spend a few days in sunny California, where you'll learn dough skills for that bakery job you've been eying, or expand your repertoire for the next bake sale. One-day programs let you test your hand at complicated sweets recipes, like macarons and mille feuilles, while longer programs are formatted those who have baked before, at least at home. A range of five-day programs help you perfect cakes and frozen desserts — you may even invent the next Cronut. 
Tuition: Two-day classes start at $925, five-day classes start at $2,195.
Enrolling in culinary school is a major decision, but cooking enthusiasts and those eying a culinary career can enroll in CIA boot camps to pick up new skills in two to five days. All three campuses offer boot camps, which focus on everything from hors d'oeuvres to grilled meats and cover cuisines from Mediterranean to French. You'll also better understand produce, so you can make the most of your farmers market when you return home. 
Tuition: $250 for a one-day class, including round-trip water taxi to the school. 
If exploring Alaska piques your curiosity on Alaskan cuisine, head to this completely unique cooking school in a historic crabbing boat in Kachemak Bay. Part of the Tutka Bay Lodge, this Friday to Sunday cooking school is open to day trippers and overnight guess.
The Friday class focuses on local harvest ingredients and seafood; you'll prepare dishes like salmon bacon and wild berry ice cream to play around with Alaskan ingredients. Saturdays have a party theme, with cocktails that use Alaskan wild herbs and berries that pair with street food and small bites from around the world. And Sundays keep it local, focusing on foraged edibles as well as regional delicacies like reindeer.