3 more Fox News employees are suing for sexual harassment and racial discrimination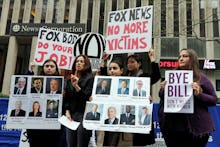 Three current and former Fox News employees have filed legal complaints alleging discrimination at the conservative news channel. The new suits, which were filed Monday against Fox News' parent company 21st Century Fox, come amid a slew of other complaints alleging a company culture that tolerated gender discrimination, sexual harassment and race discrimination.
In the new complaints, a Fox News Radio editor alleges that management did not take immediate action when she was subjected to sexual harassment and physical threats from a Fox News Radio anchor. Additionally, two other women employees allege they were fired soon after they disclosed their pregnancies to company management.
Those two women, both of whom worked in the company's finance department, also claim they were subjected to racial discrimination and harassment from the company's former comptroller Judith Slater.
In a statement, a Fox News spokesperson said the claims are "without legal basis."
"We have consistently demonstrated that the company is committed to a diverse workplace that is free from all forms of discrimination, takes any complaint of discrimination seriously, and in these particular matters took prompt, effective and, where necessary, strong remedial action," the spokesperson said.
In the suits, which were filed in U.S. District Court, a Fox News Radio employee says she was subjected to sexual harassment and violent threats from a male co-worker, who allegedly referred to her and other female employees "sluts" and "whores" and disparaged their physical appearance. Additionally, the employee has alleged, she was told by management to keep quiet about a near-physical assault from the male co-worker, and that she was retaliated against for trying to report her co-worker's behavior.
The other former employees, who say Fox terminated them due to their pregnancies, allege a "racially hostile work environment" due to Slater's behavior that perpetuated for years.
"Plaintiffs and other dark-skinned employees suffered years-long relentless racial animus at the hands of their white supervisor, Slater," one complaint reads. "Despite being well aware of Slater's racist conduct, executives at Fox did nothing to put an end to it and intentionally turned a blind eye."
The complaints against Slater, who Fox fired in March, are similar to other allegations made in a class-action lawsuit filed against the company in April that includes 13 current and former employees who are black and Hispanic. A handful of other employees have filed separate actions alleging they too were subjected to discrimination at the company and that upper management did little to address their complaints.
Slater has denied the allegations. 
"I have not yet had an opportunity to review the new complaints. But all claims of racial discrimination against Ms. Slater are completely false," Catherine Foti, Slater's attorney, said in a statement. 
Fox is also facing a number of sexual harassment lawsuits related to its late founder and former chairman and CEO, Roger Ailes. Ailes, who died Thursday, had denied the numerous claims of sexual harassment that prompted his departure from the company in July.
The law firm that brought forth Monday's complaints is also representing a black IT employee whose complaints against liberal Fox News co-anchor Bob Beckel led to Beckel's termination on Friday.
That employee has not yet taken legal action.
"Despite public relations efforts to the contrary, business at 21st Century Fox continues to operate more akin to 18th Century Fox," attorneys Douglas Wigdor and Jeanne Christensen said in a statement. "It has, and continues to be, our hope that 21st Century Fox will recognize its failures and take prompt remedial action to ensure that other employees are not discriminated against, harassed and/or retaliated. If they do not do so voluntarily, we will continue to pursue all available remedies to ensure that they are compelled to do so."
The additional legal complaints come at a fraught time for the company, which is facing intense scrutiny from the U.K.'s regulatory body Ofcom as 21st Century Fox tries to acquire the British broadcaster Sky. Ofcom regulators have met with attorneys involved in bringing sexual and racial harassment lawsuits against Fox News, who have argued that the takeover bid should not be approved until the allegations have been resolved.
May 23, 2017, 10:37 a.m. Eastern: This story has been updated.