7 Google hacks to use on your next vacation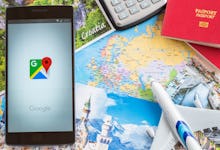 Just a few days before embarking on a road trip through Northern Spain, my brother (who does not work for Google, but is a computer nerd), informed me that you can pre-load Google maps on your smartphone, in case you find yourself in a situation with no cell service. 
Google to the rescue. Not only was I off the hook for navigating my girlfriend through the gorgeous Spanish countryside while I took pictures out of the passenger window, but the maps helped us find small towns to stop in and tourist-free parks, and allowed us to change our route as many times as we desired. 
Google's newest tools make vacation planning easier than ever before. To get the most out of them, download what you need before you hit the road — and if you're traveling abroad, consider enrolling in your cell phone carrier's international plan or buying a SIM card for eligible phones. Below, find seven ways to get Google to do the more tedious parts of vacation planning and navigating. 
Start your trip planning with Lists
Not sure where to go? Google has pulled historical Google Maps data to find the trendiest destinations over the summer months. Organized nationally and in 25 cities across the U.S., this data compiles the most popular restaurants, "edutainment" (museums and the like), tourist attractions, parks, beaches and more.
Anyone can make a List with Google Maps, from the best happy hours in your city to your favorite hotels across the world. You can also ask your friends to add to your Lists for a certain destination, to get all the recommendations before you get there. 
There is nothing more frustrating than spending half your time trying to keep track of your group. From sports games to summer music festivals, Google's location sharing makes it easy (just drop a digital pin) to set up precise meeting spots or round up your group, in case the concessions or audio guide lead your fellow travelers astray. 
Translate reviews into a language you understand
If you're looking to go out like the locals, take advantage of Translated Reviews, a tool that translates reviews in any language to your preferred language. You'll be able to skip the tourist traps and head straight to the hidden gems. 
Understand written signs and menus with Word Lens
Traveling to a country where you don't even know the alphabet can be daunting, but a feature on the Google Translate app (available for iOS an Android) will make your life much easier. Just open your Translate app and point your phone's camera at the text you want translated. Like magic. 
And don't underestimate the value of typing out a translation to people you meet if you can't communicate in a common language. Download an offline language pack before you travel so you can type in sentences to translate to and from a foreign language. 
Turn Google Trips into your digital travel agent
One big perk of hiring a travel agent or going on a group tour is being able to relax and leave someone else in charge of your itinerary. As you probably guessed, there's an app for that. 
Google Trips will keep all of your reservations, from the flight to the hotel to the various transfers in between, in one place. If you add or change any reservations, the app will automatically pull the information from your email (or you can update it manually). Set reminders for restaurant reservations, excursions and that your car rental return time so Google Trips can manage your time for you.
Be sure to download your trip before you go so that you can access all of your information, as well as any notes, when you're not online. Anyone who's ever forgotten the name of the hotel they're supposed to be checking into will find this super useful. 
Even in your own city, losing access to Google Maps cans be immensely stressful. Luckily, Google's offline maps — which are available on both iOS and Android — can save you from your own directional woes. Once you reload a specific area (or multiple areas) in your Google Maps app, you'll be able to get driving directions to anywhere in the saved area at anytime, even in airplane mode. Voice guidance also works, though if you don't have service, the traffic data won't necessarily be accurate. 
Find and remember your parking spot
If road trips have a downside, it's parking. One rainy night in Pamplona, thanks to a suggestion from a concierge at our hotel, we decided to forgo street parking and head to the underground parking garage near the city center. By the time we realized the city center had clusters of this same parking garage every few blocks, it was too late to remember where our rental car was. Make parking a little easier by utilizing Google Maps' Parking Difficulty Icons to plan where you park and Save Your Parking to avoid having a Dude, Where's My Car? moment.