'Far Cry 5' Trailer: New clip shows rural Montana setting, teases worldwide reveal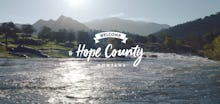 It looks like we'll be heading to fictional Hope County, Montana, for Far Cry 5, according to a very brief teaser trailer the Ubisoft account posted to YouTube. 
The trailer doesn't offer too many details — instead, it's mostly a tone piece that sets the stage for whatever deranged, bloody antics players are likely to encounter. It does, however, tease that there will be an actual reveal of Far Cry 5 on Friday.
The full trailer is embedded below.
Far Cry 5 teaser trailer
Mic will keep you updated as more information on Far Cry 5 becomes available.
Check out the latest from Mic, including our list of video games that made fun of their players, a personal essay about dealing with anxiety through Breath of the Wild, a look at the racist and sexist experiences in esports and a plea for better character customization options for black characters.