'Fire Emblem Echoes' Zeke: How to recruit Zeke for your army in 'FEE'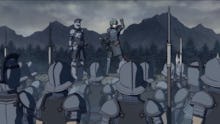 Fire Emblem is all about building the most powerful army possible. If you want to nab the golden knight Zeke in Fire Emblem Echoes for either purpose, read on.
How to recruit Zeke in Fire Emblem Echoes
Big ups to Twinfinite for their guide on how to get Zeke in Fire Emblem Echoes. It all starts in act 4, when you'll have an opportunity to save a woman named Tatiana. She's in Nuibaba's Abode, on the right side of Alm's map. Defeat Nuibaba (be careful to avoid her spellcasting), enter the abode and head to the prison cell in the dungeon. Interact with it to free Tatiana, who is Zeke's lover.
After that, head to Rigel Plains, where Zeke will see that you've freed his beloved and join up with you. This will, naturally, turn the battle in your favor. After you've finished this level, head to the village in the north — and boom, Zeke is now in your party. Go forth and conquer your enemies.
More gaming news and updates
Check out the latest from Mic, including our list of video games that made fun of their players, a personal essay about dealing with anxiety through Breath of the Wild, a look at the racist and sexist experiences in esports and a plea for better character customization options for black characters.