Linkin Park lashes out at fans who call them sellouts: "You're a f*cking p*ssy"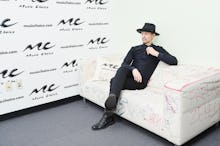 On Friday, nu-metal band Linkin Park released its seventh full-length studio album, One More Light. For fans who once found comfort in the band's angsty, screeching, hip-hop-tinged rage, it's essentially unrecognizable. The record, which features tracks like the Kiiara-assisted "Heavy," sounds closer to the inoffensive bro-pop of a band like the Chainsmokers, a very deft mimicry of all of radio's favorite emotionally charged, but sonically featherlight, electronics.
But just because One More Light sounds like radio ear candy, that doesn't necessarily mean the band is selling out. Lead singer Chester Bennington was very clear about that in a recent interview with Kerrang!, threatening to punch any fan who spread this misinformation in the "fucking mouth."
"If you're gonna be the person who says like 'They made a marketing decision to make this kind of record to make money,' you can fucking meet me outside and I will punch you in your fucking mouth because that is the wrong fucking answer," Bennington said. "Because guess what, calling us a sellout for that purpose is ... selling out on your fucking excuse as to why you don't like it. You're a fucking pussy."
Bennington says that One More Light is the sound of the band taking "musical risks."
For any band to take musical risks because you like what you're doing in spite of what you know some people will say they don't like, it doesn't matter if they like it or not — what matters is that you took the chance to do something that you felt was important to you and that's what being an artist is all about.
It's not the first time he's lashed out at fans with colorful, violent language for not liking the direction new Linkin Park music was heading in. In early May, during an interview with Music Week — as reported by NME — he went with stabbing instead of punching.
If you like the music, fantastic. If you don't like it, that's your opinion too. Fantastic. If you're saying we're doing what we're doing for a commercial or monetary reason, trying to make success out of some formula ... then stab yourself in the face!
Fans have been having a field day with Bennington's ongoing ire, dragging up choice lyrics from Linkin Park's past to describe his mood.
So much for trying to change the conversation around the new album. Bennington will likely soon learn that threatening to punch the trolls only makes them stronger — though of course, in the end, it doesn't even matter.
Mic has ongoing music coverage. Follow our main music hub here.