You can watch parts 3 and 4 of 'Twin Peaks: The Return' right now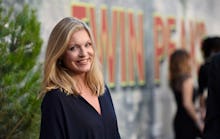 Fans have been waiting 26 years for a return to the tumultuous town of Twin Peaks and on Sunday night, they got that and a whole lot more. Many familiar faces were there, like Dr. Jacoby, Deputy Hawk and even the Log Lady, but so much of part one and two of Twin Peaks: The Return involved meeting new characters and learning new plot lines. 
While the first two installments might've been enough David Lynch logic for even the most diehard fans to handle, for those who can't wait to dive back in, there is a way to keep watching. Parts three and four of the 18-episode season are currently available for streaming on Showtime Anytime for those who subscribe to the cable channel or Showtime Now for streaming-only subscribers. 
Cue a bunch of new Showtime subscribers. That's right, Twin Peaksers, parts three and four of the disturbing, yet perfectly Lynchian, new season can be viewed ahead of their May 28 air date.
The Showtime online site makes it easy to sign up for Showtime streaming services through a cable provider or the Showtime app, which is helpful for all those millennial fans who no longer use cable. Considering the buzz surrounding the return of Twin Peaks, it's a pretty brilliant way to reel in new users. 
Here are just nine of the many questions parts one and two sparked that could conceivably be answered in parts three and four:
1. Why does that glass box time-space portal exist in New York City, and who created it?
2. Who plays Lucy and Deputy Andy's 24-year-old son?
3. What in the heck is that electrified brain-tree monster, and will it be a mainstay of the Black Lodge?
4. Why is Dr. Jacoby ordering shovels and other digging supplies?
5. What did Laura Palmer mean about being dead and yet alive?
6. Was Bill Hastings really framed for the murder of librarian Ruth Davenport?
7. Why did that weird monster apparition in the glass box break free and kill that couple having sex?
8. Is the good Dale Cooper now lost in the time-space continuum wormhole?
9. Why is Dale Cooper's evil version hacking into the FBI mainframe?
It's unlikely all these things will be explained in the following two parts of Twin Peaks: The Return, but some possible answers should soon become clearer, as was the case with the original series. Even though Lynch can be a painstakingly slow storyteller, he is deliberate when it comes to revealing information.  
But then again, who knows? Lynch might keep audiences on the hook until the very end, trapped in a Black Lodge of suppositions and crazy theories. The only way to find out what tortures are in store for characters and audiences alike is to keep watching. 
Mic has ongoing Twin Peaks coverage. Please follow our main Twin Peaks hub here.