Mar-a-Lago Sinkhole: Twitter reacts to sinkhole in front of Trump's Palm Beach resort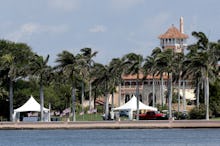 President Donald Trump's Mar-a-Lago club made headlines Monday, as a 4-foot-by-4-foot sinkhole opened up on a road directly in front of the Palm Beach, Florida, resort.
The cause of the sinkhole is unknown, according to the Palm Beach Daily News, but that didn't stop Full Frontal host Samantha Bee from weighing in.
Other Twitter users espoused theories of their own. Some, like Bee, saw the sudden hole as a sign from the heavens above, while at least one person insisted the sinkhole is a Buffy the Vampire Slayer-style Hellmouth.
Though Trump is out of the country, many explained the Florida sinkhole as a consequence of his overseas activities — especially the seemingly mystical glowing orb he touched on Sunday.
A few Twitter users pointed out that the sinkhole was actually Trump fulfilling his campaign promise to "drain the swamp."
Others, meanwhile, had a simple explanation for the spontaneous blight on Trump's beloved Florida home: karma.
Whatever the reason, one thing is clear: In the wake of a chaotic week filled with Trump-related scandals, the Mar-a-Lago sinkhole is the unlikely hero the internet needed.