'Overwatch' Contenders Season Zero: New tournament set to spotlight casual players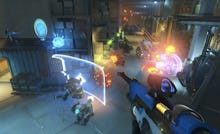 Overwatch just announced its first open registration tournament, called Overwatch Contenders, that will begin on June 3 with the North American qualifiers. Registration is now open for any team that wants a chance at winning the $50,000 prize.
Not to be confused with the Overwatch League, Overwatch Contenders is for new players trying to make a name for themselves. In the official statement, Blizzard said something along similar lines.
While preparations for the Overwatch League are busily underway, we know that the future stars of the league are out there, training hard and looking to make their mark. That's why we're creating opportunities now for players across the competitive spectrum to prove themselves in glorious combat, from the solo-queue superstars to the established tournament veterans.
Here's what we know about Overwatch Contenders
The tournament is currently open for registration for any team — whether they're associated with a larger organization or not. Teams must be made up of eight players and one team manager. So, make sure to pick your most trustworthy and responsible friends!
There will be two tournaments, one in North America and one among Europe, both with the same $50,000 prize.
The top six teams from season zero will be joined by Team EnVyUs and Rogue from APEX and compete in season one in a round-robin style contest. 
The teams are going to have to work extra hard to beat those two teams. If you and your pals are serious about competing, you can find the full list of rules here.
More Overwatch news and updates
For more on Overwatch, check out the rest of what Mic has to offer. Here is an essay about how Efi Oladele was a missed opportunity for Overwatch, a deep dive into the issue of sexual harassment in Overwatch voice chat, an unintentionally hilarious infographic showing the most popular Overwatch characters in each state, a criticism of Blizzard's failures in its design of Symmetra and a dive into a cool trend on Tumblr that converts your most-played heroes into a psychedelic illustration.