Why did Melania Trump swat Donald's hand away? A body language expert weighs in.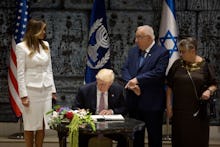 As President Donald Trump continues on on his first international tour in office, he and first lady Melania Trump, are also apparently continuing their international tour of highly public, highly awkward interactions.
The latest installment to that saga came on Monday, when eagle-eyed observers spotted the first lady appearing to swat the president's hand away as the two walked down an airport tarmac together in Israel.
Trump's seemingly frosty disposition toward the president is nothing new; over the course of the Trump presidency, awkward body language between the first couple has been the norm.
Patti Wood, a veteran body language expert and author, said that the physical distance between the Trumps might actually be more significant that the hand swat.
"It's different because he's reaching back for her, and we don't typically see that in photos from his presidency," she said. "She'd still be 'less than' if she grabbed his hand, rather than equal to a full, equal power dynamic couple."
Wood notes that Trump — striding what looks to be more than 16 inches ahead of his wife — reaches for her hand "without looking back — sort of what you'd do to keep a child in line."
"It's more about, 'come along now', and she's swatting his hand away as a child would, from the top down, saying 'don't lead me'," Wood said. "It's not a bid for affection by him, it's more like 'come along.'"
She also notes the tension visible in the first lady's posture during the encounter, evidenced by her arms, which stay stiff and down at her sides.
Viewed through that lens, she said, Melania Trump's swat is more of a rejection of the president's patronizing gesture than a rejection of his touch.
"He wants to be seen as president and more powerful, he doesn't necessarily want to be seen as a presidential couple," Wood said. "[Trump is saying,] 'See me, I'm in the lead, I'm the president.' With the other leaders, his steps are fairly even, but she's outside that intimate zone of space where you'd usually be to be seen together as a couple, as a unit."
Wood mentions the contrast between the Trumps and former President Barack Obama and Michelle Obama — the inevitable comparison, considering the former first couple's well-documented history of public displays of affection.
"This is a decision that he's made about how he wants to appear as a politician," she said. "He wants to be seen as 'president,' not as a couple. He does not view her as an equal, does not want to be seen on an equal plane."