GOP's Lee Zeldin: "We just need to keep on pressing forward" amid Trump tumult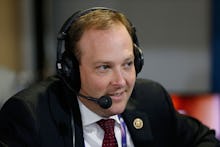 WASHINGTON —  Rep. Lee Zeldin was rushing his way through another busy Thursday at the Capitol.
The House was in session, and Zeldin, 37, had votes to cast. The New York Republican had just been named to a new task force on the balance of power between federal, state and tribal governments. 
Plus there was that meet-and-greet with a group of visiting eighth graders from his native Long Island.
Over all the day's usual business, though, hung an entirely unusual storyline: the appointment of a special counsel to lead an investigation into possible links between President Donald Trump's campaign and Russia.
Speaking to a reporter in the Capitol's Statuary Hall, Zeldin seemed as unsurprised to field questions about the Trump-Russia probe as he was eager to talk about the legislation he's pushing.  
In that regard, Zeldin, an attorney who was elected to Congress in 2014 and an Army veteran who served in Iraq with the 82nd Airborne Division, isn't that much different than many of his peers. He's trying to do his job, but it's the president and the turmoil he's created that's sucking up all the oxygen.
Asked by Mic about the appointment of former FBI Director Robert Mueller to head the investigation, Zeldin mainly played it down the middle.
"Whatever findings come forward, as a member of Congress, I look forward to reviewing. As a member of the American public, [I] will be interested and looking forward to seeing those documents and those findings," he said. "And then you form decisions based on those facts, wherever they may lead. I'm not someone who wants to rush to judgment on something that is this important."
That said, Zeldin segues into what he's doing on projects "closer to home on Long Island," such as advancing legislation to protect local waterways and secure more benefits for veterans.
"We just need to keep on pressing forward with the agenda every day," said Zeldin, who also co-chairs the House Republican Israel Caucus, and serves on the Financial Services and Foreign Affairs Committees.  
"There are many issues that people identify as their top issue. One person might say it's the economy someone else might say it's health care. Someone else may say it's Russia," he said. "And you have to respect everyone's opinions and priorities and just press forward on all fronts."
His advice to young people trying to make it through the fog of today's political war?
"When there's an issue you care about," he said, "do your homework. Ask questions. And don't just believe the first thing you come in contact with. You know, some anonymous blog on Facebook shouldn't be your source [for] all answers to what you're passionate about."
Correction: May 22, 2017