'Clash of Clans' Update Info: Builder Base and other changes detailed in new patch notes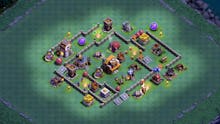 Remember all those hints at the next huge Clash of Clans update? We were pretty sure the shipwreck stuff Supercell teased was suggesting a way to build a second base, which would be a significant new feature for the game. After weeks of speculation, the update is now live — and we have patch notes for your perusal.
Clash of Clans update adds Builder Base and new buildings
The newest, biggest feature is the Builder Base. You can get all the details here — but put simply, this is a new base on a new landmass with tons of new buildings that are built with different resources than the structures at your home base. You can head there and get building once your town hall hits level four.
It also includes several new troops, including the boxer giant and bomber. A new versus mode lets you take on other players directly; win three versus matches in one day and you'll get some hot loot. The press release calls this the biggest Clash of Clans update ever, so make sure your app is up to date and get building.
More gaming news and updates
Check out the latest from Mic, including our list of video games that made fun of their players, a personal essay about dealing with anxiety through Breath of the Wild, a look at the racist and sexist experiences in eSports and a plea for better character customization options for black characters.