Twitter co-founder Ev Williams apologizes if his creation won Trump the presidency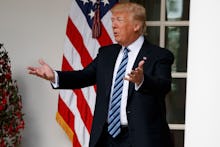 Twitter has a loyal fan in President Donald Trump, who turns to the platform to comment on anything and everything. He has used the service to slut-shame a former Miss Universe and call climate change a Chinese hoax. He has added his two cents on celebrity marriages and lamented being the victim of the "single greatest witch hunt of a politician in American history," disregarding the presidents who were assassinated. The commander in chief owes a lot to Twitter — and he has credited the microblogging platform for his victory in the 2016 presidential election.
"Without the tweets, I wouldn't be here," Trump told the Financial Times last month.
In March, he shared a similar outlook while speaking to Fox News' Tucker Carlson. "Well, let me tell you about Twitter," Trump said. "I think that maybe I wouldn't be here if it wasn't for Twitter."
For Trump, the social media site's function is to deliver his version of the truth to the people when the "dishonest media" disagrees.
"I have my own form of media," he told Carlson. "There's been nobody in history that got more dishonest media than I've gotten. ... Twitter is a wonderful thing for me because I can get the word out."
Ev Williams apologizes: Twitter co-founder Evan "Ev" Williams, who is on the company's board of directors, is not too thrilled with the notion that his creation elected the former reality TV star to the presidency. In an interview, Williams conveyed a bit of remorse. It's not a direct apology, but it's close.
"I thought once everybody could speak freely and exchange information and ideas, the world is automatically going to be a better place," Williams told the New York Times while speaking about the landscape of the internet. "I was wrong about that."
"If it's true that he wouldn't be president if it weren't for Twitter, then yeah, I'm sorry," he said.
So did Twitter really hand Trump the presidency? From the data alone, the claim doesn't really hold water. Twitter has 313 million active users, but 79% of accounts are outside of the United States, which roughly accounts to 66 million active users in the U.S. regardless of party affiliation or eligibility to vote. Trump earned nearly 63 million popular votes. How his tweets influenced Twitter users and non-users alike is impossible to determine. The only thing that can be said for sure is that it gave Trump a platform, as it does to all its users.
Lately, the president's Twitter presence has been feeling tamer than usual. The Wall Street Journal recently reported that Trump's aides organized a social media intervention for the president, asking him to tone down his Twitter activity. Trump, who has acquired more than 30 million followers on his personal account, has reportedly been warned that his tweets could "paint him into a corner" both politically and legally.
Perhaps his aides are worried the platform that supposedly got him in office can get him kicked out of it, too.