High school reportedly considering expulsion after student wears off-the-shoulder top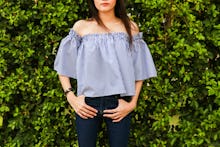 A Hickory Ridge High School honor roll student was weeks away from graduating when she did the unthinkable: She wore an off-the-shoulder top. Now, she says she's been slapped with a 10-day suspension, banned from walking in her commencement ceremony, possibly facing expulsion and is worried about losing her college scholarships.
According to NBC Charlotte, Summer was wearing the top on Wednesday when, she said, the principal approached her in the cafeteria to ask if she had a jacket to cover up.
The outlet reported a notice of suspension that said Summer replied to the principal saying, "I think my shirt is fine." Summer allegedly repeated herself when the principal told her that her lower back was also exposed, amounting to another violation of the school's dress code. The student handbook specifies that students are prohibited from wearing off-the-shoulder tops as well as anything that exposes their midriff. 
Summer told NBC Charlotte that after the confrontation, she put on a friend's jacket and zipped it up — which she thought would put an end to the kerfuffle. Instead, Summer said the situation escalated when the principal told her to go into another room and change her outfit. She refused. 
"I completely understand why a dress code is put into place, but I feel like after I put on that jacket it should have been subdued," she told NBC Charlotte. 
Summer has reportedly had issues with the school's principal before. NBC Charlotte reported that her mother said she must be contacted before officials take any disciplinary action against her daughter. With this caveat in mind, Summer reportedly didn't heed the principal's request to change until her mother was notified, and instead accompanied her friends to the auditorium after her lunch period was over. 
Summer told the outlet that the principal then arrived with an armed security guard, asking that all students leave the room except for her. Summer said the principal then gave her an ultimatum: Change your top or face arrest.
"I stayed in my seat just like a lot of role models that I have looked up to stayed in their seats," she told NBC Charlotte. "I mean, you have to stand up for what you believe in."
Summer said the guard was about to arrest her when her mother called back. In lieu of arrest, she was handed a 10-day suspension and a ban from all senior activities, graduation included. What's more, NBC Charlotte reported Summer said the principal is still considering expulsion, which would put Summer's scholarships — she got a full ride for pre-med — in jeopardy.
Summer is just the latest student to find herself dealing with the consequences of a school's dress code policy. On Tuesday, a mother penned a scathing letter to her daughter's middle school principal for sending her 13-year-old with a note home two days in a row about her supposed "inappropriate" outfit. And with prom season nigh, one Illinois high school thought it wise to issue a 21-slide presentation about appropriate dress, largely targeting girls. 
Considering the sexist history of school dress codes, Summer can't help but think the punishment doesn't fit the crime.
"It's just sad because I worked so hard for four years to walk across that stage," she told NBC Charlotte. "We have drug dealers walking across that stage, we have sex offenders walking across that stage and then the 4.4 [GPA] student who showed her shoulders can't."
When Mic reached out to Hickory Ridge High School, a spokesperson said officials had no comment.