Nicole Scherzinger gives the best performance in ABC's 'Dirty Dancing' remake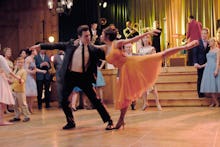 ABC's Dirty Dancing remake is bad. This shouldn't come as a surprise: It is, after all, a network television remake of Dirty Dancing, a sentimental favorite for many that nonetheless is more cheesy than charming, with a predatory undertone that seems all the more glaring years later. Rather than fixing those problems, ABC's version, which airs on Wednesday, is an overlong and dull remake with ineffective stars — Abigail Breslin and Colt Prattes — that not only fails to improve on the original, but actually introduces even more flaws, shoehorning in musical numbers at inorganic points in the story.
But amid this giant misfire is one bright spot: Nicole Scherzinger. As Penny Rivera, formerly Cynthia Rhodes' Penny Johnson in the 1987 original, Scherzinger brings real heart and empathy to what could have been a glorified cameo for the singer and songwriter. It's not a huge role — though she certainly gets the chance to showcase her dancing ability — but her best work is in the quieter moments.
Somehow, in a project that otherwise doesn't come together, Scherzinger turns in some subtle, lovely work, playing a character who's unfairly down on her luck and who wins sympathy for her patience and grace. Considering she's still a relatively inexperienced actress, it's a testament to Scherzinger's talent and presence that she stands out.
As a film actress, Scherzinger's résumé is thin. Beyond lending her voice to 2016's Moana as the titular chieftain-in-training's mother, she's mostly been relegated to supporting roles in smaller movies. Her biggest parts have instead been on stage: as Maureen in the Hollywood Bowl's 2010 staging of Rent and as Grizabella on London's West End in the 2015 revival of Cats.
Scherzinger was over-the-top in those performances. That's not a criticism; she delivered exactly the kind of intense character work that's required onstage — watch as the breath drains out of her in the full-throated Olivier Awards performance of "Memory" in the above video. But because theatrical acting is so different than what's required on film, a medium that often rewards a more naturalistic approach, it's hard to point to those performances as proof Scherzinger has the potential to be an effective movie actress.
Dirty Dancing doesn't necessarily make the case for Scherzinger as a great actress, but it certainly suggests a depth we have yet to see in her. Penny, an employee of a swanky Catskills resort, is very much a supporting player, but she provides the inciting incident for Dirty Dancing to really kick off: She gets pregnant. 
Penny knows the father won't be willing to help, so Breslin's Baby steps in with money for an abortion. Penny's friend Johnny — Prattes, filling Patrick Swayze's iconic dancing shoes — refuses charity, but accepts a separate offer from Baby: He'll teach her to dance and charge her for the lessons.
It's in these scenes that Scherzinger really shines. She communicates both Penny's dawning fear about her situation as well as her grateful relief for Baby's help. While Prattes aims for an intense performance and comes off unnatural — delivering every line with an inauthentic bad-boy vibe — Scherzinger relays more feeling with facial expressions. When Baby is perusing some wigs Penny is selling, Penny gazes at the teen girl with a warmth and kindness that instantly casts her as a friendly older-sister figure to Baby. She sells the harder edges of Penny's life by never making her too sharp, opting instead for a generosity of spirit. It's a remarkably smart choice.
All that said, perspective is key: This is still a misguided Dirty Dancing remake, and we're hardly arguing for Scherzinger to beat Laura Dern for the Emmy this fall. It's not an incredible performance, but it's the kind of work that stands out in a pretty lackluster TV movie. It inspires an appreciative smile amid all the eye rolls. Most of all, it makes us want to see more from Scherzinger.
In her career so far, Scherzinger has been a Pussycat Doll, a solo artist, a Dancing With the Stars winner, an X-Factor judge and a stage actress. If this promising performance is any indication, film star may be the latest addition to that résumé.
Dirty Dancing premieres Wednesday at 8 p.m. Eastern on ABC.
Mic has ongoing TV coverage. Please follow our main TV hub here.