Millennial women take less vacation than men, according to this depressing new study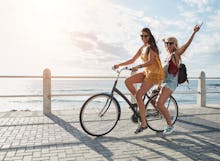 From being taken less seriously by venture capitalists to earning smaller paychecks than men, women face significant gender-based discrimination at work. But a new study found that working women are worse off in yet another way: Women's ingrained beliefs about work and leisure might be causing them to take fewer vacation days than their male peers. 
Jut 44% of millennial women used up their vacation time in 2016, while 51% of millennial men took all their days off, a recent study conducted by Project: Time Off found. The organization, which is dedicated to promoting the value of vacation, polled 7,331 American workers over 18 years old who work more than 35 hours a week for a survey released Tuesday. 
Why are millennial women so bad at taking vacation? 
Overall, 53% of millennials surveyed left unused vacation days while 55% of Generation X and 52% of Boomers forfeited vacation days. But context matters. "Millennials earn considerably less vacation time than other generations" Cait DeBaun, director of communications for Project: Time Off, said in an email. 
In particular, the study did not paint a pretty picture of working young women in America. Millennial women took fewer vacation days in 2016 compared to 2015, and they're awfully stressed as well.
Even though millennial women were more likely than men to agree that vacation helps prevent burnout, their survey responses revealed they feel tied to their jobs. While 37% of millennial women said they want to show complete dedication to their job, only 32% of millennial men said the same. And 35% of millennial women surveyed reported feel guilty about taking vacation, compared to 25% of men. Other factors reported in the survey included high stress and workload concerns. 
"Women, in general, are a little more hesitant than men when asking for anything at work," Jill Jacinto, a millennial career expert and associate director for WORKS, a company that supports young working women and companies who employ them, said in a phone interview. 
"Women tend to feel lucky while men feel like they deserve it." — Jill Jacinto, millennial career expert
Jacinto was "a bit" surprised by the Project: Time Off study findings, but noted that the trend of women taking less vacation falls in line with gender-based thinking around salary negotiations. "Women tend to feel lucky while men feel like they deserve it," she said. "It's up to us women to change that conversation by bringing awareness to it. It's totally OK to ask for these types of things, like a salary, like a raise, like more vacation days — and actually use your vacation days."
Women may leave vacation days unused in hopes of ensuring that their colleagues aren't left high and dry, Jacinto said. "Women often want to make sure that every project is wrapped up with a bow," Jacinto said. "I was working with a client this other day who was nervous to go to a friend's wedding because her team was presenting something. She's still going back and forth about whether to attend this wedding that's in two weeks!" 
Female workers might just be following their superiors' lead. If an employee doesn't see their bosses or co-workers taking vacation, they might be less likely to take off, Jacinto said, noting she's observed this trend among tech industry workers who have unlimited vacation policies. When managers or a workplace have an ambivalent stance toward vacation, it creates a "culture of silence" about vacation, the Project: Time Off study authors wrote. Roughly 66% of all employees (not just millennials) felt that their company sent mixed messages about vacation, the study reported. 
At the end of the day, paid vacation is compensation you earned, Jacinto said. "You're either taking it or you're losing money."