'Overwatch' Anniversary Event Trailer: Blizzard reveals new skins as update goes live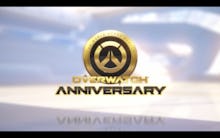 The Overwatch Anniversary event is now live, bringing all sorts of new skins and new arena maps to players until June 12. Blizzard announced the news with a new trailer posted to Twitter and YouTube, which you can watch below.
Overwatch Anniversary event trailer
This story is developing.
More Overwatch news and updates
For more on Overwatch, check out the rest of what Mic has to offer. Here is an essay about how Efi Oladele was a missed opportunity for Overwatch, a deep dive into the issue of sexual harassment in Overwatch voice chat, an unintentionally hilarious infographic showing the most popular Overwatch characters in each state, a criticism of Blizzard's failures in its design of Symmetra and a dive into a cool trend on Tumblr that converts your most-played heroes into a psychedelic illustration.