Gus Kenworthy, Big Freedia, B. Scott and more star in MeUndies' first-ever pride campaign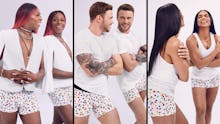 With Pride Month fast approaching, brands are working to churn out pride-themed offerings. From Gucci to Target to Smirnoff, the rainbow never gets as much action as in the month of June. 
Now MeUndies, the online retailer of specializing in fashion underwear, is getting in on the action, partnering with the Los Angeles LGBT Center for their first-ever pride campaign entitled Celebrate Yourself.
The "celebrate" print briefs, which drop Tuesday on their site, feature campaign images starring Olympic silver medalist Gus Kenworthy, musician Big Freedia, blogger B. Scott and more. 
"It was definitely something that was more edgy than normal campaigns that I do," Freedia said in an interview. "It was a new adventure for me and felt fun and creative."
While brands are often quick to co-opt pride for fiscal gain or "woke status," MeUndies is making their altruistic intent clear, announcing that every pair sold will include a $1 donation to the Los Angeles LGBT Center to help expand its youth center.
"Our team is bursting with people who consider themselves part of the community, so we all felt compelled to get involved," MeUndies creative director Andrew Teague said in an interview. "That doesn't happen by sitting in your office thinking you can just tell people how to feel and what to buy. It happens when you engage with the world."
"We never saw this as a chance to tick the gay box," Teague said. "We're certainly not walking away, patting ourselves on the back after Pride Month — we are already talking with the center about some more long-term ways in which we can support them."
Below, take a look at the campaign images shot by celebrity photographer Andrew Yee.
Gus Kenworthy
Big Freedia
B. Scott
Hayley Kiyoko
Stevie Boebi
Ally Hills