That Rihanna-Lupita Nyong'o buddy movie is actually happening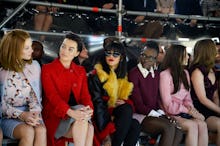 It started as a joke on social media. Two years ago, Tumblr user @elizabitchtaylor posted a photo of Oscar-winning actress Lupita Nyong'o and pop star Rihanna sitting side-by-side at Paris Fashion Week in 2014. The caption read: "They look like they're in a heist movie with Rihanna as the tough-as-nails leader/master thief and Lupita as the genius computer hacker."
Then, on April 18, user @1800SADGAL posted the same photo with a similar message: "Rihanna looks like she scams rich white men and [Lupita] is the computer smart best friend that helps plan the [scams]," the caption read. 
The post garnered almost 100,000 retweets, and breathless speculation regarding what would be — hypothetically — one of the most singular buddy movies in recent memory. And now, it's being made into an actual film: According to Entertainment Weekly, a furious bidding war at the Cannes Film Festival ended Monday with Netflix securing the rights to the project. 
Oscar-nominated director Ava DuVernay is slated to helm the forthcoming feature, while Issa Rae — creator and star of the HBO comedy Insecure — is in talks to write the screenplay. Rihanna and Nyong'o will both star.
All four women had expressed their support for the concept on Twitter when the initial post went viral:
It remains unclear how faithful the filmmakers will stay to the original concept of Rihanna scamming white men while Nyong'o plans their capers. Nor is it clear whether @1800SADGAL or @elizabitchtaylor will be involved with, or receive credit for, any part of the project.
But either way, the film stands to break serious creative ground. Never has a Hollywood movie featured such a stacked deck of black woman firepower both in front of, and behind, the camera, with an HBO star and showrunner, a multi-Grammy award winning musical artist, an Oscar-nominated director and an Oscar-winning actress all headlining the main cast and crew.
The lesson, it seems, is that if you want to see a movie get made, simply tweet it into existence.
May 22, 2017, 5:36 p.m.: This post has been updated.