#FullHouseChallenge: Teens are recreating the iconic '90s TV intro in the latest viral craze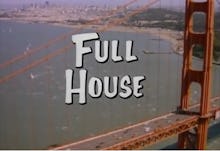 Cheesy sitcom intros like the Full House theme have long been a source of mockery. Now they've become a meme.
The #FullHouseChallenge is the latest DIY viral video trend to sweep social media. It basically entails recreating the opening intro of the iconic '90s sitcom with your friends. 
To participate, you shoot a video introducing different friends or "characters" as they awkwardly go about life, or perhaps make a gaffe, then slowly look up at the camera with a grin as their name appears on the screen. Like this:
The meme originated with black Twitter and spread quickly as other high schools accepted the challenge — just like the equally creative Mannequin Challenge from 2016. Hundreds of #FullHouseChallenge videos have been uploaded to Facebook and Twitter.
Here are some of our favorites:
And of course, the original.