"Defund Planned Parenthood" is Republican for eliminating poor women's access to doctors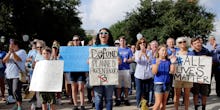 Republicans have been tossing around the concept of "defunding Planned Parenthood" with wild abandon under President Donald Trump. The 2018 fiscal budget would "defund Planned Parenthood." The American Health Care Act would "defund Planned Parenthood." Various legislative maneuvers on the state level would "defund Planned Parenthood." 
For all their talk, conservatives have yet to explain what these words actually mean. "Defunding Planned Parenthood" is not taking away money the organization uses to perform abortions, as Republicans have argued. Rather, it's withholding the federal dollars low-income individuals need to secure necessary health care services that almost never include abortion (which Planned Parenthood maintains represents about 3% of the total care it provides). 
Planned Parenthood receives around $500 million annually — $553.7 million in the 2014-2015 fiscal year, or 43% of its budget, according to its operating report — from the government in the form of Title X grants and Medicaid reimbursements.
Because of the Hyde Amendment, Medicaid can only cover abortion when a pregnancy results from rape or incest, and when pregnancy poses a threat to the pregnant person's life or health. In some states, Medicaid expansions cover "medically necessary" abortions with state funds, but those exceptions are narrow. In the 2010 fiscal year, the federal government funded 331 Medicaid abortions nationwide. 
Title X grants, meanwhile, never go toward abortion. Instead, Title X pays for family planning services at any health care center that offers them to patients living at or below the federal poverty line. This means cancer screenings, pelvic exams, pap smears, testing for sexually transmitted infections, contraception, pregnancy testing and HIV screenings. 
Thanks to the Hyde Amendment, those services represent the vast majority of what Medicaid pays for, too. So when Republicans promise that their AHCA will deny abortion providers Medicaid reimbursements, or when Trump proposes budget that excludes abortion providers from all Health and Human Services Department funding programs, what they're doing is nothing less and nothing more than denying crucial reproductive health care to people who otherwise couldn't afford it.
Medicaid patients already have a harder time finding doctors: According to the Centers for Disease Control and Prevention, while roughly 95% of office-based physicians accepted new patients in 2013, that figure dropped to 69% where Medicaid patients were concerned. Medicaid covers 17% of women between the ages of 19 and 65, a group that represents "the poorest and sickest population of women," according to the Kaiser Foundation. 
Planned Parenthood estimates that at least 60% of its patients use Medicaid and Title X to access care and that three quarters of its patients earn incomes at or below 150% of the federal poverty line. In 2014, 54% of Planned Parenthood centers were located in rural or medically underserved areas where health care professionals are in short supply. That same year, 15% of patients were black and 23% were Latino, groups represented among the racial minorities consistently disenfranchised when it comes to health care access.
To understand what happens to those people when conservatives "defund" Planned Parenthood, we can look to Texas, which moved to disqualify Planned Parenthood and other abortion providers from its Medicaid-funded family planning program in 2011. Excluding a "willing provider" violated federal law, as the New York Times reported: Texas lost $35 million in Medicaid funding it had received from the federal government.
In 2013, Texas launched an entirely state-funded program, Healthy Texas Women, that has failed to patch the 82 holes left by family planning clinics (a third of which were Planned Parenthood affiliates) that closed as a result of state-level disqualification from participating in Medicaid. Before Texas moved to exclude it from the federally funded family planning program, Planned Parenthood estimates that it served more than 40%, or 50,000, of the state's roughly 111,000 patients who relied on federal Medicaid monies.
According to a state report from 2013, nearly 30,000 fewer clients were served, statewide, after abortion providers lost Medicaid funding. One study found that the proportion of women who were on Medicaid and using injectable contraceptives fell in areas where Planned Parenthood closed 31 of its 74 clinics. At the same, the birth rate within that group rose by roughly 27%. A separate survey of former Planned Parenthood clients that had used injectable contraceptives found that the most common reason for abandoning the method was inability to find another provider.
Dr. Jessica Rubino, an Austin-based family medicine physician who also performs abortions with Whole Woman's Health — the organization at the center of the Supreme Court's landmark 2016 abortion ruling, Whole Woman's Health v. Hellerstedt — isn't surprised: Pregnancy rates will rise among populations that lose access to contraception, which ultimately means more abortions, she said. But what's most concerning to Rubino is the "dichotomy of care" that defunding Planned Parenthood establishes within the U.S. health care landscape.
"Our health care system is already separated out into two classes of people: People who can afford and have access to health care, and people who don't," Rubino said. "They have worse outcomes."
America's United Health rankings from 2016 places Texas 41st in the country when it comes to maternal and child health. Maternal mortality rates are also startlingly high, having abruptly doubled between 2011 and 2012, according to one study. While researchers did not peg the surge directly on Planned Parenthood closures, they did note that it came around the same time as 2011's Medicaid exclusion. And, among black women, morbidity and mortality rates were particularly high. 
The "most vulnerable" patients, Rubino explained, found themselves increasingly isolated after 2011, because the new law stipulates that medical professionals with any association whatsoever to abortion providers cannot see Medicaid patients. Her work with Whole Woman's Health — although she does it on her own time and it isn't connected to her existing practice — leaves her "tainted" under the state law, Rubino said. 
"There's sort of this silent group and the only way we know that they're out there is we've done the research," she said. "We know that there are just women now getting less healthy, and they can't access people like me."
"You're shutting down Planned Parenthood but you're not opening up other avenues for them to get the care they need," she continued. "It's just a bad policy."
Conservatives have proposed that federally qualified health centers could fill the coverage void left by Planned Parenthood, but a recent Guttmacher Institute study confirmed that FQHCs can't match Planned Parenthood in ubiquity, name recognition or resources, and won't be able to absorb Planned Parenthood's 2.5 million annual patients. That's as true in Texas as it is nationwide.
Unfortunately, even if Trump's budget and the AHCA fail to pass, Texas' model could still take hold nationwide: Texas has drafted a letter to the Trump administration asking to recoup the Medicaid dollars it formerly declined while continuing to exclude abortion providers. If the Health and Human Services Department agrees, it would set a precedent for for other states — like Iowa, Missouri, North Carolina and over a dozen others — that have tried to shut down Planned Parenthood through similar policy to similarly avoid losing federal Medicaid funds. 
However it's accomplished, the bottom line is this: "defunding" Planned Parenthood is no such thing. Instead, it's blocking low-income, medically underserved communities from accessing the very services that keep abortion rates low. It means throwing poor women under the bus. And that, as Rubino put it, is "unconscionable."
"We have the proof, we know the facts, we have the numbers here ... but it doesn't seem to matter."