Manchester Arena Explosion: At least 22 dead in blast at Ariana Grande concert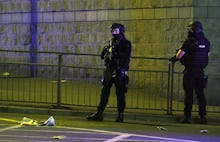 A blast rocked an Ariana Grande concert at Manchester Arena in the city of Manchester, England, on Monday evening, sending a crowd of thousands into a panic and resulting in police locking down sections of the city.
Manchester police confirmed at least 22 people had died, and around 59 were injured, with U.K. authorities investigating the possibility of a terror attack.
Follow below for live updates on the incident as it unfolds. All times are Eastern. 
10:39 a.m.: We are signing off. Mic's coverage of the Manchester attack victims continues here.  
9:12 a.m.: 8-year-old Saffie-Rose Roussos confirmed dead
The 8-year-old died of her injuries after she was separated from her mother and sister during the attack, the Telegraph reported.
8:56 a.m.: Ambulance official confirms 12 children under 16 were injured in attack
A U.K. ambulance official confirmed that 12 children under 16 were injured in the attack, according to the Associated Press.
In total, 59 people have been confirmed injured.
8:26 a.m.: President Donald Trump speaks with U.K. Prime Minister Theresa May
According to an email from the White House Press Secretary Office, the leaders agreed that the Manchester attack "was particularly wanton and depraved."
"The President reassured the Prime Minister that Americans stand with the people of the United Kingdom and that our resolve will never waiver in the face of terrorism," the email stated. "He offered American aid in the United Kingdom's investigation and vowed to continue the mutual fight against terrorism."
"Both leaders commended the courage, speed, and professionalism of those who responded to the wounded, secured the innocent, and tended to the survivors and their families," it continued."
8:23 a.m.: Queen Elizabeth II condemns the bombing as an "act of barbarity"
"The whole nation has been shocked by the death and injury in Manchester last night of so many people, adults and children, who had just been enjoying a concert," the monarch said in a statement. The statement continued:
"I know I speak for everyone in expressing my deepest sympathy to all who have been affected by this dreadful event and especially to the families and friends of those who have died or were injured.
May 23, 2017, 7:04 a.m.: 18-year-old Georgina Callander is first named victim
On Tuesday, Sky News reported that 18-year-old Georgina Callander is among the 22 who died as a result of the attack at Manchester Arena. Callander's is the first of the 22 names to be released. 
7:01 a.m.: Police arrest suspect in connection with attack, many young people still missing
Greater Manchester police tweeted Tuesday morning that they arrested a 23-year-old man in South Manchester who may be connected to the incident at Manchester Arena. Earlier in the day, British prime minister Theresa May added that police were investigating whether the perpetrator of the attack acted alone or with help. 
Family and friends of at least 14 people have confirmed to the Telegraph that their loved ones are still missing.
6:13 a.m. EST: Theresa May reveals police may know identity of attacker 
In a statement given on Tuesday morning, British prime minister Theresa May indicated that police believe they know the attacker's identity. Authorities continue to investigate whether the person responsible acted alone or with help. 
5:53 a.m. EST: Casualty count rises to 22, Donald Trump responds 
Tuesday morning, the number of those who died rose to 22, according to CNN. 
 President Donald Trump called those responsible for the attack "evil losers" in a statement.
"So many young beautiful innocent people living and enjoying their lives murdered by evil losers in life," Trump said. "I won't call them monsters because they would like that term. They would think that's a great name. I will call them from now on losers because that's what they are."
He added, "This wicked ideology must be obliterated."
11:05 p.m. EST: Ariana Grande tweets condolences for victims of suspected attack
Pop star Ariana Grande, who was unharmed during the incident, tweeted a short message to survivors, fans and others at shortly before 11:00 p.m. EST.
"Broken," Grande wrote. "From the bottom of my heart, I am so so sorry. I don't have words."
"We mourn the lives of children and loved ones taken by this cowardly act," Grande's manager Scooter Braun also said, according to the Guardian.
10:46 p.m. EST: Casualty count rises to at least 59 injured
According to Sky News, local ambulance services report at least 59 injuries in addition to the 19 previously reported deaths as a result of the incident — though it was not immediately clear how many of the injuries were sustained in the explosion or the ensuing stampede in the arena's hallways.
Authorities apparently believe the explosion was a suicide bombing, which if confirmed would make the attack the deadliest in the U.K. since the July 7, 2005, London bombings, which killed 52 as well as four perpetrators and wounded over 700 others.
According to MSNBC's live broadcast, law enforcement and intelligence officials have identified at least one suspect, though have not released any names as the investigation is ongoing.
10:12 p.m. EST: Local authorities confirm suspected bombing
"Currently, we have 19 people confirmed to have lost their lives in the explosion" as well as 50 casualties at six hospitals, Ian Hopkins, chief constable of the Greater Manchester Police, said in a press conference early Tuesday morning local time.
Hopkins said an emergency number, 01618569400, has been activated for people to report lost or missing loved ones
"We are currently treating this as a terrorist incident" until more information emerges about the cause of the explosion, Hopkins added.
"As you'll understand, we are still receiving information," Hopkins said. "... I want to thank people for their support and ask them to remain vigilant."
9:39 p.m. EST: P.M. Theresa May calls blast an "appalling terrorist attack"
U.K. Prime Minister Theresa May responded to the suspected attack in a statement, saying her "thoughts are with the victims and families of those affected in what is being treated by the police as an appalling terrorist attack."
Earlier in the evening, Labour leader Jeremy Corbyn had tweeted, "Terrible incident in Manchester. My thoughts are with all those affected and our brilliant emergency services."
9:15 p.m. EST: Suicide bombing suspected
MSNBC reported live on television that multiple senior U.S. officials have confirmed that U.K. authorities believe the incident was a suicide bombing, though the investigation is too preliminary to determine a suspect or motivation. Forensic evidence indicates a bomb was carried in a backpack to a location between the arena and a local train station, MSNBC added.
Reuters confirmed the report, citing two U.S. security officials.
Prior reports said police were preparing a controlled explosion appear to have come to nothing, with no secondary explosive device detected.
9:12 p.m. EST: Facebook activated safety check feature
Earlier in the evening, social media site Facebook activated its safety check feature, allowing those in the area to check in and inform friends and loved ones of their current condition.
Thousands of people flowed out of the venue in the wake of the blast, with numerous reports indicating there were many children and teenagers who were unaccompanied by or became separated from adults in the crowd.
Numerous locals used the hashtag #RoomForManchester to offer help and shelter to survivors trapped in town by the security response, joined by local Holiday Inn and Premier Inn locations which offered to take in panicked children and teenagers.
8:44 p.m. EST: Manchester Arena says incident happened outdoors
According to the Guardian, a statement from Manchester Arena "says the incident took place outside the venue" in a public location, contradicting earlier reports the incident took place inside.
Greater Manchester police warned on Twitter they would be carrying out a controlled explosion and citizens should not "be concerned" if they hear it. Controlled blasts are typically used to safely destroy suspected munitions, though could indicate an abundance of caution rather than a confirmed explosive device.
8:22 p.m. EST: Police confirm at least 19 deaths, 50 injuries
The Greater Manchester Police posted to Twitter saying "so far 19 people have been confirmed dead, with around 50 others injured."
8:18 p.m. EST: Human stampede reported at arena, with police considering original blast a possible terror attack
The North West Counter Terrorism Unit considers the blast a "possible terrorist incident," according to BBC, and senior counter-terrorist staff have assembled in London to brief the Home Office.
While the cause of the explosion remains unclear, the BBC reported a woman named Rachel from the town of Barnsley reported a "horrific stampede" with "people being crushed on the floor," which could likely account for some of the reported injuries.
8:04 p.m. EST: Bomb disposal teams summoned to Manchester, with train service suspended
British authorities locked down sections of Manchester, with heavily armed tactical teams securing the area surrounding the arena as bomb disposal teams were brought in. Photos showed a massive response by both law enforcement and other emergency personnel.
According to BuzzFeed UK's Hannah Al-Othman, a "huge area" of the town was cordoned off and panicked people were trapped as train service was suspended.
Mathew Rodriguez and Jordyn Taylor contributed additional reporting to this article.