Manchester Arena Explosion: Community using #RoomForManchester to offer help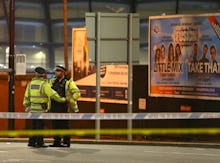 Following a deadly explosion at an Ariana Grande concert at the Manchester Arena Monday evening, the community is rallying together to offer support to those affected by what is believed to be a terror attack. 
Using the hashtag #RoomForManchester, people are offering shelter, transportation and food to victims of the explosion. 
According to reports, the Holiday Inn and Premier Inn have been sheltering teens and children who were separated from adults during the chaos.
The hashtag is also being used to help locate people who were at the concert.
Officials say 19 people were killed, and at least 50 were injured as concertgoers left Grande's performance.