Ariana Grande responds to deadly bombing at Manchester Arena concert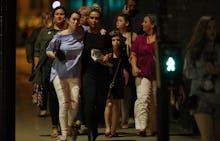 Following the bombing outside her Manchester Arena concert Monday night that left 19 people dead and at least 59 injured, singer Ariana Grande reacted on Twitter, saying she is "broken."
"Broken. From the bottom of my heart, I am so so sorry. I don't have words," Grande tweeted. Grande was not injured in the attack, according to the Los Angeles Times.
The blast — which rocked the area outside the arena as throngs of young people left the concert — is being treated as a possible terrorist attack, according to British authorities. 
According to TMZ, Grande has suspended her Dangerous Woman world tour. Grande was scheduled to perform in London on Thursday.
"We are working to establish the full details of what is being treated by the police as an appalling terrorist attack," Prime Minister Theresa May said in a statement, according to Reuters. "All our thoughts are with the victims and the families of those who have been affected."
U.S. Homeland Security says there is "no information to indicate a 'specific credible threat involving music venues in the United States,'" according to CNN.
May 23, 2017, 12:06 a.m.: This story has been updated.