Donald Trump says those responsible for the Manchester explosion are "evil losers"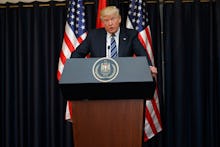 President Donald Trump on Tuesday pledged "absolute solidarity" with the people of the United Kingdom, calling those responsible for the bombing after a concert in Manchester, England, "evil losers."  
"I will call them from now on losers, because that's what they are," Trump said of the kind of people who carry out attacks such as the one Monday night in Manchester, which killed at least 22 and injured dozens of others. "They're losers. And we'll have more of them. But they're losers. Just remember that."
Trump's comments came during his first foreign trip as commander in chief — and one day after delivering a speech, on eradicating terrorism and extremism, in Saudi Arabia. 
After the Manchester attack, Trump again called for driving out terrorism from society.
"This is what I've spent these last few days talking about in our trip overseas," Trump said in his statement, which came after he met with Mahmoud Abbas, president of the Palestinian Authority. "Our society can have no tolerance for this continuation of bloodshed. We cannot stand a moment longer for the slaughter of innocent people, and in today's attack it was mostly innocent children."
British Prime Minister Theresa May said Tuesday morning that British police know the identity of the attacker, but have yet to announce who it is, or whether the attacker acted with help.
Yet Trump called the attacker an "extremist" whose "wicked ideology must be obliterated."
"The terrorists and extremists and those who give them aid and comfort must be driven out from our society forever," Trump said.