Georgina Callander first named victim in Manchester Arena attack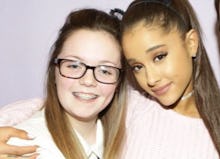 Georgina Callander, an 18-year-old Runshaw College student studying health and social care, is the first identified victim of Monday night's Manchester Arena attack, which took place during an Ariana Grande concert in Manchester, England. 
According to Sky News, Runshaw College confirmed that Callander matriculated at its school. 
"Our deepest sympathies, thoughts and prayers go out to all of Georgina's friends, family and all of those affected by this loss," the college said in a statement to Sky News. 
Callander met Grande previously in 2015 and took a photo with her, which Callander posted on her Instagram. On Sunday night, Callander tweeted to Grande "So excited to see you tomorrow!" 
Friends of Callander's remembered her on social media. According to the Telegraph, the teenager loved to attend live music shows and snap pictures with her favorite celebrities.  
On Tuesday morning, Greater Manchester police tweeted that it arrested a 23-year-old man in South Manchester who it believes was connected to the attack, which was carried out by a suicide bomber. 
So far, 22 people have been reported dead while 59 are reported injured. Those injured have been taken to eight hospitals in Greater Manchester. 
Monday evening, Grande tweeted that she was "broken" by news of the attack. 
"From the bottom of my heart, I am so sorry," Grande said. "I don't have words." 
In a statement, president Donald Trump called the attackers "evil losers." He also called the attacker an "extremist" whose "wicked ideology must be obliterated." 
Family and friends of 15 people are still looking for missing loved ones, according to the Telegraph.