ISIS claims responsibility for deadly Manchester Arena bombing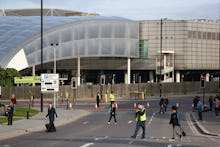 The Islamic State group, also known as ISIS, has claimed responsibility for a deadly bombing that killed 22 concertgoers and injured scores more in Manchester, England, Monday night.
The terror group, which frequently claims responsibility for acts of deadly violence, made the announcement via the messaging app Telegram, the BBC reported.
The group praised the act, calling the concert "shameless," the Independent reported.
"With Allah's grace and support, a soldier of the caliphate managed to place explosive devices in the midst of the gatherings of the crusaders in the British city of Manchester," ISIS said in a statement.
Pop star Ariana Grande had just concluded a packed show at the Manchester Arena when the explosion ripped through the crowd. The blast set off a panic that prompted police to lock down sections of the city as they rushed to determine whether more attacks would follow.
Greater Manchester Police confirmed on Tuesday that a 23-year-old man had been arrested in connection to the incident but declined to release the man's identity.
Grande, who was safely evacuated from the venue, tweeted out her stunned condolences to fans in the wake of the blast.
"Broken. From the bottom of my heart, I am so so sorry. I don't have words," she wrote.