Trump's budget aims to exclude Planned Parenthood from all federally funded programs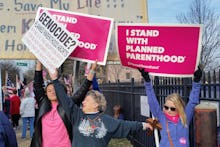 Ahead of Tuesday's official reveal, a leaked executive summary of President Donald Trump's budget bars Planned Parenthood from participating in any Department of Health and Human Services programs. That Planned Parenthood is specifically called out in the budget's language appears to be unprecedented.
"It singles out Planned Parenthood [and] guts programs designed to help women and their families put food on the table, get the medical care they need and make ends meet," Dawn Laguens, executive vice president of Planned Parenthood Federation of America, said in a statement. "Gimmicks and misdirection cannot cover up a deadly agenda that would hurt women and prevent access to basic health care in the U.S. and across the globe."
The fiscal budget for 2018 reportedly goes further than the Republicans' proposed American Health Care Act, which specifies that no Medicaid money can go to an abortion provider. According to the leaked summary, the budget specifically bans the Labor-HHS appropriations bill — including Medicaid monies — from funding entities that provide abortions.
This is a huge hit to Planned Parenthood, which currently draws around $500 million — $553.7 million, according to its 2014-2015 operating report — from government grants and reimbursements. The majority of that money comes from Medicaid, though part of it also comes from Title X grant programs. The organization has estimated that together, some 60% of its patients look to Medicaid and Title X to secure preventative and primary health care.
The ongoing anxiety about Planned Parenthood providing abortions is arguably overblown: Title X funds can never be used for abortion, which comprises around 3% of Planned Parenthood services. Additionally, under the 1977 Hyde Amendment, Medicaid funds only go toward abortion in the extremely rare case where an unwanted pregnancy results from rape or incest, or when a pregnancy poses a threat to the mother's life or health. Planned Parenthood puts the majority of government money it receives toward services like contraception, pap smears, cancer screenings, and testing for HIV/AIDS and other sexually transmitted infections. 
As the Huffington Post pointed out, the budget summary indicated Planned Parenthood would also be locked out of the HHS' Violence Against Women grants, intended to combat sexual assault. Further, the organization would be excluded from Zika prevention programs and the Centers for Disease  Control and Prevention's cancer screenings. The budget also makes sweeping cuts to Medicaid and social safety net programs, further disadvantaging the same populations Planned Parenthood serves.
"From day one, women's health has been squarely in the crosshairs of this administration," Laguens said. "If passed, this budget would undo decades of progress for women when it comes to their ability to access health care, to pursue their career and education goals and to lead safe, productive lives."