The heartbreaking reason why Zack Snyder is stepping down as 'Justice League' director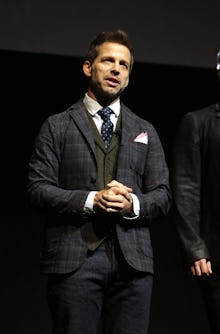 Director Zack Snyder will not be working on the Justice League movie anymore. Following the death of his daughter, Autumn Snyder, both Zack Snyder and his wife Deborah, who is a producer on the film, will be stepping away from the upcoming DC superhero movie. Snyder confirmed the news to the Hollywood Reporter. 
Autumn died on March 12 at the age of 20 as a result of a possible suicide. The Associated Press reported that the coroner's spokesman, Ed Winter, said Autumn's death was possibly due to an overdose of prescription medication. 
After an early screening of the film, Snyder wanted to add a few more scenes but decided he was not ready to commit to doing reshoots. Joss Whedon stepped in to help complete the film in post-production ahead of the film's Nov. 17 release date. 
Whedon, of course, directed The Avengers and The Avengers: Age of Ultron, so he knows a thing or two about giant superhero productions. He took over the writing and directing of the additional Justice League scenes following Snyder's leave from the film. 
Following Autumn's death in March, the Snyders took a two-week break from production. Snyder said he thought going back to work after the break would help take his mind off things, but it didn't.
"In my mind, I thought it was a cathartic thing to go back to work, to just bury myself and see if that was the way through it," Snyder told the Hollywood Reporter. He says the job is obviously demanding and that he would rather spend this time with his family who needs him during this hard time. 
Justice League unites all the iconic DC superheroes like Batman, Wonder Woman, Aquaman and more and stars Ben Affleck, Gal Gadot, Jason Momoa and Ezra Miller.
Mic has ongoing movie coverage. Please follow our main movie hub here.