Manchester Bombings: Queen Elizabeth II, Prince William condemn deadly attack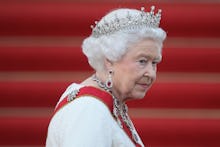 Queen Elizabeth II has expressed her remorse over the deadly Manchester Arena blast that left 22 dead and scores injured.
In a statement released Tuesday, the monarch called the attack — which took place just as American pop star Ariana Grande was closing out the packed England show — an "act of barbarity." The queen offered her "deepest sympathy" to all the families affected by the tragedy.
The full statement can be read below:
The whole nation has been shocked by the death and injury in Manchester last night of so many people, adults and children, who had just been enjoying a concert.
The Queen's grandson, Prince William, also released a statement on Tuesday paying tribute to the victims and their families who have been forced to confront "unimaginable grief."
The Queen and her husband, Prince Philip, also paused to observe a minute of silence at a Buckingham Palace garden party on Tuesday in honor of the Manchester victims.
On Tuesday morning, the Islamic State claimed responsibility for the deadly blast via the messaging app Telegram.