'Pokémon Go' Rock Event: How to find Larvitar during Adventure Week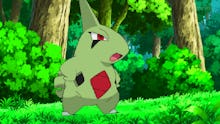 The Pokémon Go rock event Adventure Week, has lead many trainers to their first Larvitar. The ultra-rare Rock and Ground-type Pokémon — like Magcargo and Corsola — qualify as part of the rocking Pokémon Go event. But for those who haven't spotted a single one in the wild since the event started on May 18, you may be wondering where the heck are these little green guys? 
Pokémon Go Rock Event: Where are all the Larvitar?
Larvitar, despite the current Pokémon Go rock event taking place May 18 through May 25, continues to be rare, though that wasn't always the case.
Posts on Reddit's r/silphroad note that the start of Adventure Week saw the inclusion of many Larvitar and that's now dropped significantly. This is in line with what took place during the Water Festival, when Dratini was more available in the beginning.
Some folks are still finding a ton of Larvitar, but it doesn't appear as frequent as the event's early days.
Pokémon Go Rock Event: Why is Larvitar so rare?
Because Tyranitar is a beast. 
Larvitar evolves into Pupitar, which then evolves into Tyranitar. And Tyranitar is not a Pokémon you want to mess with. According to RankedBoost, Tyranitar has a max CP of a terrifying 3670. For comparison, Dragonite has a max CP of 3581, Gyarados 3281 and Rhydon 3300. If you're sensing a pattern, it's not just in your head: Tyranitar has one of the highest maximum CP in the game.
Pokémon Go Rock Event: Where to find Larvitar during Adventure Week
Larvitar's location depends on where you reside in the world. The good news is that during the rock event, Pokémon Go Adventure Week players have the best chance of finding the little guy that they'll ever have. The bad news is that Niantic has reduced the number of Larvitar spawns, though this doesn't make it impossible to find.
Use incense to make sure you're attracting Pokémon to you while we're still in the midst of the rock event week. We recommend checking the Silph Road global atlas to see where Larvitar has spawned in the past. It's unclear whether eggs obtained during the days of Adventure Week will lead to Rock-type Pokémon, but you may want to hatch the ones you have and collect potentially Rock-type-filled eggs while you still can. 
The Pokémon Go Adventure Week rock event ends on May 25 at 4 p.m. EDT.
Check out more Pokémon Go news and coverage
If you're just booting up your Pokémon Go account, check out our first impressions of the Gen 2 update. You'll also want to learn more about the Unown and new evolutionary items like the Sun Stone and more. If you're looking for a list of evolutions that weren't initially revealed by Niantic, this article is your guide. 
If you're more interested in the main games, here's the latest on a possible Pokémon title on the Nintendo Switch: Pokémon Stars. And if you're itching to learn about the other mobile Nintendo games, check out our coverage of Fire Emblem Heroes and Super Mario Run.