Equal Pay Day was April 4 — for mothers, it's May 23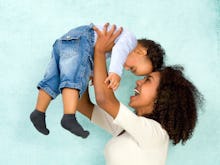 Oregon mother Rachel Jesequel has always done retail or office work, two occupations that typically pay no more than Oregon's $9.75 minimum wage. Recently, she researched how much it would cost to find full-time care for her 2-year-old and part-time care for her 7-year-old. 
Jesequel said back in March that it came out to almost $21,000 a year.
"My wages would not even cover the amount the child care costs in a month, let alone break even," she told Mic. 
Seeing no use in working full-time to earn wages that wouldn't even offset the costs of child care, Jesequel said she and her husband, who works as an electrician, decided they would live on his income alone while she stayed home with their children. 
Considering the demands of child rearing alone, mothers perform more unpaid labor than any other group in the world. And, when it comes to actual paid work — they aren't exactly getting their due either.
A new study from the National Women's Law Center found that mothers earn less than fathers at every age, race, occupation and education level, as well as in every state. Mothers working full-time in year-round positions make just 71 cents to the father's dollar, adding up to an annual difference of $16,000.
According to the Cut, that wage gap means mothers' Equal Pay Day — the day marking how long it would take mothers to earn as much as fathers did the previous year —  doesn't come around until May 23. That's more than a month later than the general Equal Pay Day — April 4 — which represents the day the average woman would have to work until to earn as much as men did the calendar year before.
As with the gender wage gap, the parent wage gap widens along lines of race. NWLC's report states that while white mothers are paid 69 cents for every white non-Hispanic father's dollar, black mothers are paid 51; Native mothers, 49; and Latina mothers, 46. 
Mothers who work in traditionally female occupations also fare worse than the average woman: Whereas mothers who are waitresses, retail employees, child care workers or housekeepers, for example, earn an average hourly wage of less than $10.50, these same positions pay fathers as much as $12.50 an hour.
Jesequel is no stranger to the consequences of this disparity. That's why she's an advocate for both the Fight for $15 and affordable child care, because she's seen firsthand how low wages and costly child care hurt women's, and families', chances of getting ahead.
Because her family relies on her husband's income, money's always pretty tight. Even the smallest hitch — a doctor's appointment, a car repair or the like — can eat through months of savings or result in being late on bills.
"I had to replace a windshield a couple of weeks ago and it took me a long time just to save the few hundred dollars to fix it," she said. "When you're not able to make ends meet, these little things feel like the end of the world because you don't know where you're going to find the money."
Jesequel said fixing systematic inequalities like the wage gap, minimum wage and child care accessibility could make a huge difference for her entire family.
"There's a lot that would be different for us if these things were in reach — stability and security, for one," she said. "We would love not to have to stress any time little things happen. We would love to take a family vacation, or to give our kids name-brand school supplies. 
"It would change our family's life a lot."