Here's what we know so far about the victims of the Manchester attack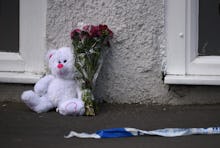 The attack on a Manchester, England, arena during an Ariana Grande concert Monday has killed at least 22 and wounded 59 others. 
We're learning more about the victims of the attack — already the deadliest in Britain in more than a decade. Here's what we know so far.
Children among the dead, wounded in Manchester
Numerous children were wounded and at least one was killed in the ISIS-claimed attack on the pop concert. 
Saffie-Rose Roussos, 8, was one of the nearly two dozen reported dead so far in the bombing. 
She was "a beautiful little girl in every aspect of the word," Chris Upton, the headteacher at her primary school, said of Roussos, according to the Guardian. "She was loved by everyone and her warmth and kindness will be remembered fondly. Saffie was quiet and unassuming with a creative flair."
Roussos had gone to the concert with her mother, Lisa Roussos, and her sister, Ashlee Bromwich. According to the Guardian, both are currently hospitalized.
According to the Associated Press, 12 children under the age of 16 were injured in the blast. 
Identities of those killed
Roussos was the second of the dead to be identified. 
The first, Georgina Callander, was an 18-year-old student at Runshaw College who had met Grande in 2015. Callander was studying health and social care at the college, CBS News reported, and loved to attend live shows. 
John Atkinson, 28, is the third of those killed to be identified, the Manchester Evening News reported. Atkinson — an "amazing young man" and a "beautiful soul" — was reportedly leaving the concert when the venue was attacked.
More are missing 
At least 15 people, including at least one young child, have been confirmed missing by relatives and friends in the wake of the attack, the Telegraph reported. 
Some on social media have reported that a large group of unaccompanied children are currently in refuge at a local Holiday Inn and Premier Inn. But both hotels have said those reports were false.
"There has been reports of a number of unaccompanied children being bought to a Holiday Inn or Holiday Inn Express in the area, however these are incorrect," Karan Khanna, vice president of operations of the International Hotel Group, told IBTimes UK. "Our hotels were working with police throughout the night, but we did not have a group of unaccompanied children at our hotel."
Manchester Mayor Andy Burnham, who took office two weeks ago, said that the city was waking up to the "most difficult of dawns" after enduring the "darkest of nights."
"These were children, young people and their families that those responsible chose to terrorize and kill," Burnham said in a statement. "This was an evil act."
May 23, 2017, 12:49 Eastern: This story has been updated.