Who will win 'Dancing With the Stars'? Here are our predictions for the season 24 finale.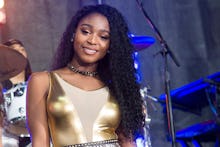 Season 24 of Dancing With the Stars is in its final stretch, and it could really be anybody's game. Well, maybe not anybody's, but Monday night's episode definitely tightened up the competition — and considering the semifinal's shocking elimination of near-perfect contender Simone Biles, no outcome is set in stone. 
The final night of competition consisted of two dances: a redemption dance and a freestyle, for which the three remaining contestants pulled out all the stops. David Ross even managed to nab his first perfect score with his baseball-inspired freestyle dance.
But unfortunately for Ross, he was not alone in the perfect-score box for part one of the finale. Rashad Jennings proved he's had more dance talent up his sleeve all along with his redemption waltz and show-stopping freestyle to Bruno Mars' "Uptown Funk," both of which earned him perfect 40s. 
The judges were beside themselves after Jennings' freestyle. "You are naughty because you have been holding out on us, that is how you turn this mother out," Carrie Ann Inaba said, TV Guide reported. Even Len Goodman had to give him props. "That was so good I could even put up with the music," he admitted. 
Here's the whole routine for those who missed the crazy goodness:
Jennings said he's never won anything before, but if his last two performances are any indication, he came to this competition to change that.
"(Winning) would mean the world," Rashad said on the show, according to US Weekly. "But seriously, this woman beside me is who I'm fighting for," he said, referring to his dance partner, Emma Slater.
Then there's Normani Kordei. Despite being one of the lesser-known stars on the show at the beginning, Kordei could not be caught this season. The singer-dancer from Fifth Harmony is a natural performer and displayed her gift in spades Dancing With the Star's dance floor. She's regularly received perfect or near-perfect scores throughout the competition — and the judges just can't get enough of her. 
"It was like watching angels dancing," Bruno Tonioli said in reference to Kordei's beautiful freestyle with partner Val Chmerkovskiy to "What the World Needs Now" by Andra Day.
So, who's going to take home the mirror ball? Odds are stacked in Kordei's favor, but there is a chance Jennings' 11th-hour pair of perfect scores could squeak him ahead by inches. 
No matter how the chips fall, it'll be worth checking out part two of the finale Tuesday night to see if any surprises unfold. The two-and-a-half-hour live Dancing with the Stars finale kicks off at 8:30 p.m. Eastern on ABC.
Mic has ongoing DWTS coverage. Please follow our main DWTS hub here.