Let's compare Trump's guestbook signature at Israel's Holocaust memorial with Obama's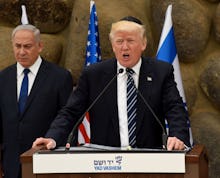 President Donald Trump visited the Yad Vashem Holocaust remembrance center in Israel on Tuesday and signed the guestbook at the solemn site with a note that critics suggested didn't reflect the gravity of the atrocities of more than 70 years ago.
"It is a great honor to be here with all of my friends," Trump wrote. "So amazing + will never forget!"
Trump's guestbook signature sounded far different than the prepared remarks he gave at Yad Vashem, in which he declared, "As long as we refuse to become bystanders to barbarity, then we know that goodness, peace and justice will ultimately prevail."
Trump's note was also a stark contrast to those left former President Barack Obama and former Secretary of State Hillary Clinton, whom Trump defeated in the November presidential election.
When Obama traveled to Israel and visited Yad Vashem in July 2008 — when he was running for president against Sen. John McCain (R-Ariz.) — he wrote in the guestbook that he was "grateful" to the people who created the memorial, adding that "at a time of great peril and promise, war and strife, we are blessed to have such a powerful reminder of man's potential for great evil, but also our capacity to rise up from tragedy and remake our world." 
Clinton visited Yad Vashem in March 2009, when she served as Secretary of State.
In her guestbook entry, she wrote that the memorial is "a testament to the power of truth in the face of denial, the resilience of the human spirit in the face of despair, the triumph of the Jewish people over murder and destruction and a reminder to all people that the lessons of the Holocaust must never be forgotten."
Twitter users pointed out the contrasting language between Trump and other U.S. leaders.
Many said it sounded like a yearbook entry.
While others pointed out the length of his entry looked more like a tweet than a thoughtful note.
"Under 140 characters," one person wrote. "On brand."